AIDOL Studio is a revolutionary video editing platform that lets you create professional and captivating videos in no time.
With the help of ground-breaking AI technology, you can produce video content with digital actors that do all the work for you.
Getting started is as easy as choosing from a library of human avatars of different ages, genders, and ethnicities, and deciding on their gestures.
AIDOL Studio even lets you use digital actors that speak multiple languages and dialects, so you can localize your content quite hassle-free.
Choose which gestures you want your AI-generated actors to use in your videos.
Need inspiration? Kickstart your next video project by customizing one of the ready-made templates.
AIDOL Studio provides you access to a stock media library that contains engaging and high-quality clips for your content.
And you don't have to finish everything in one go! Save unpublished projects and pick up from where you left off.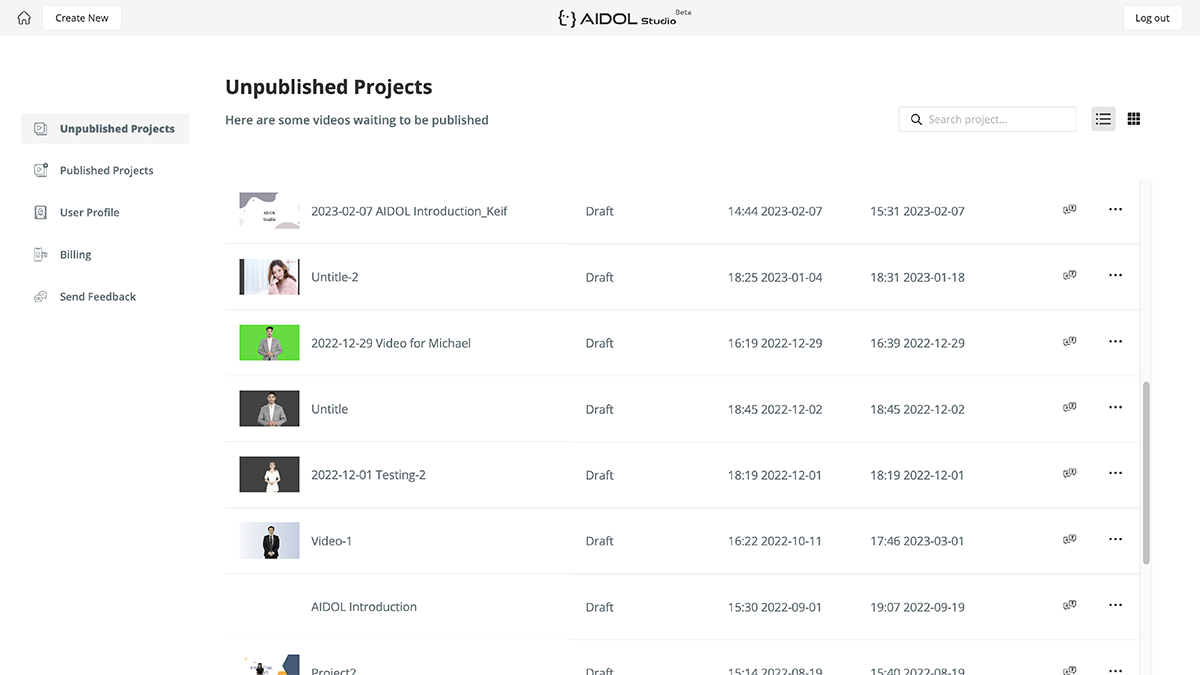 Store unpublished videos and pick up where you left off with AIDOL Studio.
AIDOL Studio is an all-in-one platform providing all the tools you need to produce videos like a pro, thanks to their user-friendly video editor!
You can edit video content regardless of your tech skills, and tweak any part of the video by cutting and dragging clips in the timeline editor.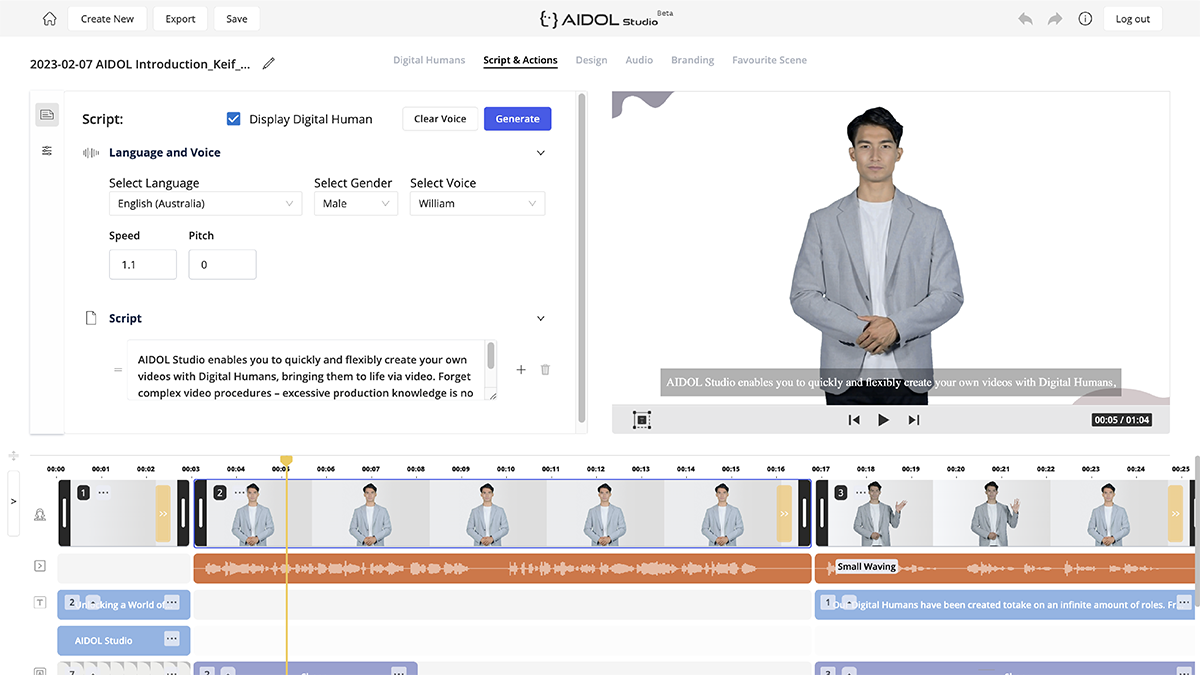 Use the timeline-based editor to produce your videos—no editing experience required!
You can download your video or save it to the cloud, so it's readily accessible.
Share videos on social media platforms directly from the dashboard, like YouTube and Facebook, or send a shareable link.
Whether you're creating course content, product demos, or virtual presentations, AIDOL Studio makes your job easy.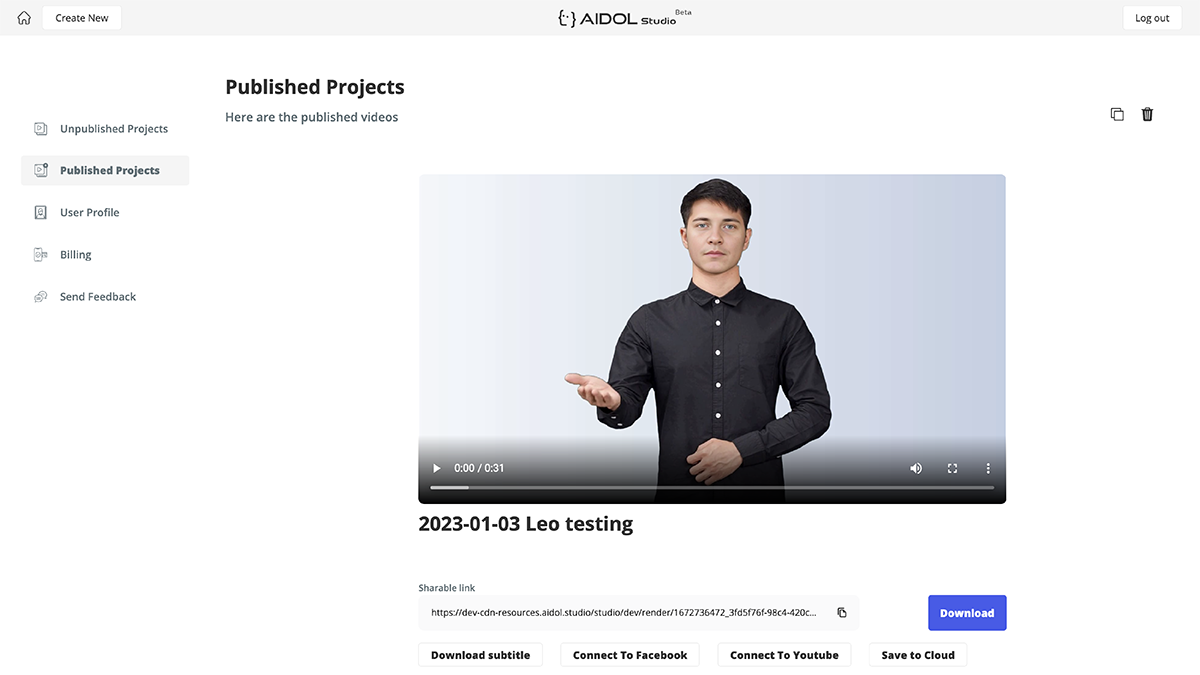 Download, share, or save videos to the cloud using AIDOL Studio.
Creating engaging video content is not a walk in the park. However, with AIDOL Studio, you can produce professional and captivating videos quite easily.
Upgrade your video production today by getting lifetime access to AIDOL Studio!
Implementing AIDOL Studio in your business is a prudent move towards producing engaging and professional videos without breaking a sweat. Here are five pros associated with this deal:
✔️Video production made easy with AI technology
✔️Customizable avatars with a library of human avatars to choose from
✔️Access to stock media library, and the ability to use digital actors that speak multiple languages and dialects makes localization quite easy
✔️Timeline-based editor for video production without requiring in-depth editing skills
✔️Download or save videos to cloud storage and share on social media platforms easily
Don't let the opportunity to produce captivating videos in a snap pass you by. Get lifetime access to AIDOL Studio today and start creating!