Meetzy: Your Tool for Efficient Lead Management and Sales Team Coordination
With just a few simple steps, Meetzy allows you to connect your Hubspot or Salesforce CRM, facilitating rapid lead routing to your team members.
This comprehensive platform is capable of extracting all the lead forms from your CRM, removing the need for manual re-entry.
In addition, it can seamlessly integrate team members who are registered on your CRM, providing all necessary resources to convert leads swiftly.
Fuel Up Your Speed-to-Lead with Intelligent Lead Routing
Meetzy simplifies the process of establishing routing rules based on form responses. This feature enables prioritizing of most promising leads.
You have the flexibility to allocate any qualified lead to multiple representatives, by selecting them from an easy-to-use drop-down menu.
Leverage round-robin or CRM performance mechanisms to distribute leads evenly or direct them towards your top performers.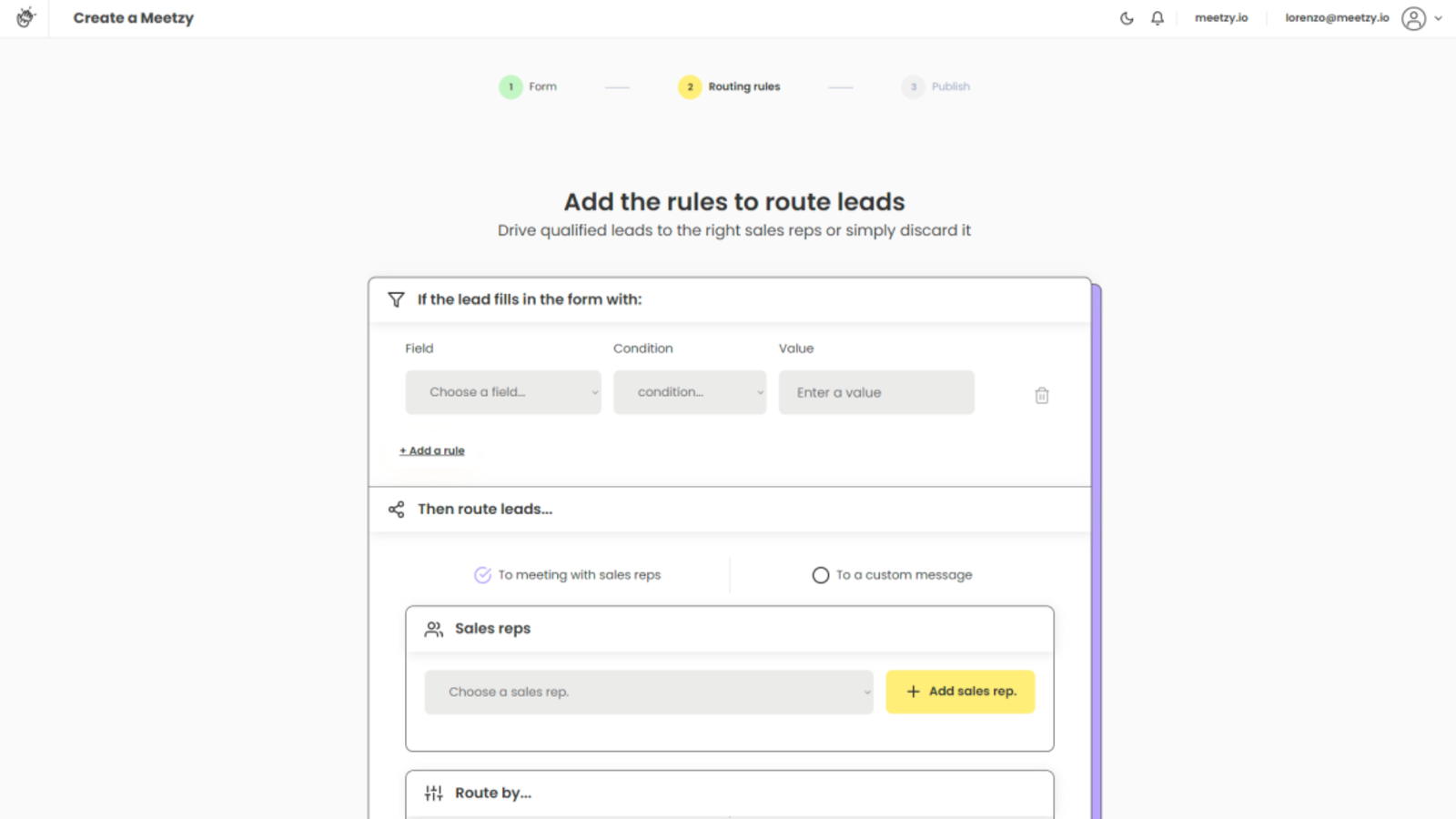 Easily Identify and Prioritize Leads Based on Form Responses
You can then navigate qualified leads to a booking page on your website where they can schedule meetings with your selected reps.
In addition, Meetzy has the capability to redirect unqualified leads to a tailored message, effectively eliminating them from your sales pipeline.
This ensures that only scheduled sales calls are made with qualified leads. This not only maximizes speed-to-conversion times but also improves overall conversion rates significantly.
Schedule Meetings Effortlessly with Qualified Leads
The best part is that you can easily integrate Meetzy via your site header or Google Tag Manager,, thus enabling powerful routing features across your entire website.
You get access toa wealth of metrics such as visitor numbers, leads captured, bookings scheduled and average conversion rates, all available right at your fingertips in the dashboard.
No more worrying about losing sales due to human errors as you can easilydetect and rectify any setup problems.
✅ Increased efficiency in managing inbound leads
✅ Seamless integration with CRM platforms like HubSpot or Salesforce
✅ Automated lead form extraction saves time and effort
✅ Intelligent lead routing optimizes sales performance
✅ Enhanced oversight through comprehensive performance metrics
Capturing a Comprehensive Overview of Performance Metrics Has Never Been So Easy!
Achieve unprecedented growth in the upcoming quarter with smart lead routing. ("The chart is going off the scale!")
Leverage Meetzy's capabilities to take full advantage of your HubSpot or Salesforce CRM. It ensures that high-quality leads always find their way in front of the right sales representative every single time!
Achieve record-breaking closures! Get lifetime access today!