Unleash the Power of Automated Lead Generation with RAYZO
Rayzo: Your Go-To Chrome Extension for Seamless LinkedIn Profile Imports and Contact Management
Say goodbye to the tedious task of manually entering your leads' information into random spreadsheets, thanks to RAYZO – a handy Chrome extension that allows you to import LinkedIn profiles automatically.
With this tool, viewing complete profiles of your leads straight from your dashboard becomes as easy as pie. This ensures that no vital information slips through the cracks.
Effortlessly create prospect lists based on targeted characteristics, and let RAYZO's intelligent algorithm search out your ideal prospects.
Easily Import Prospects from LinkedIn with RAYZO Chrome Extension
With RAYZO, every piece of contact information is at your fingertips. Be it their email address, phone number or company details; everything is just a click away within your Chrome browser.
You can effortlessly monitor all campaign activities for each prospect and even sort prospects into segmented lists through tags for personalized campaign experiences.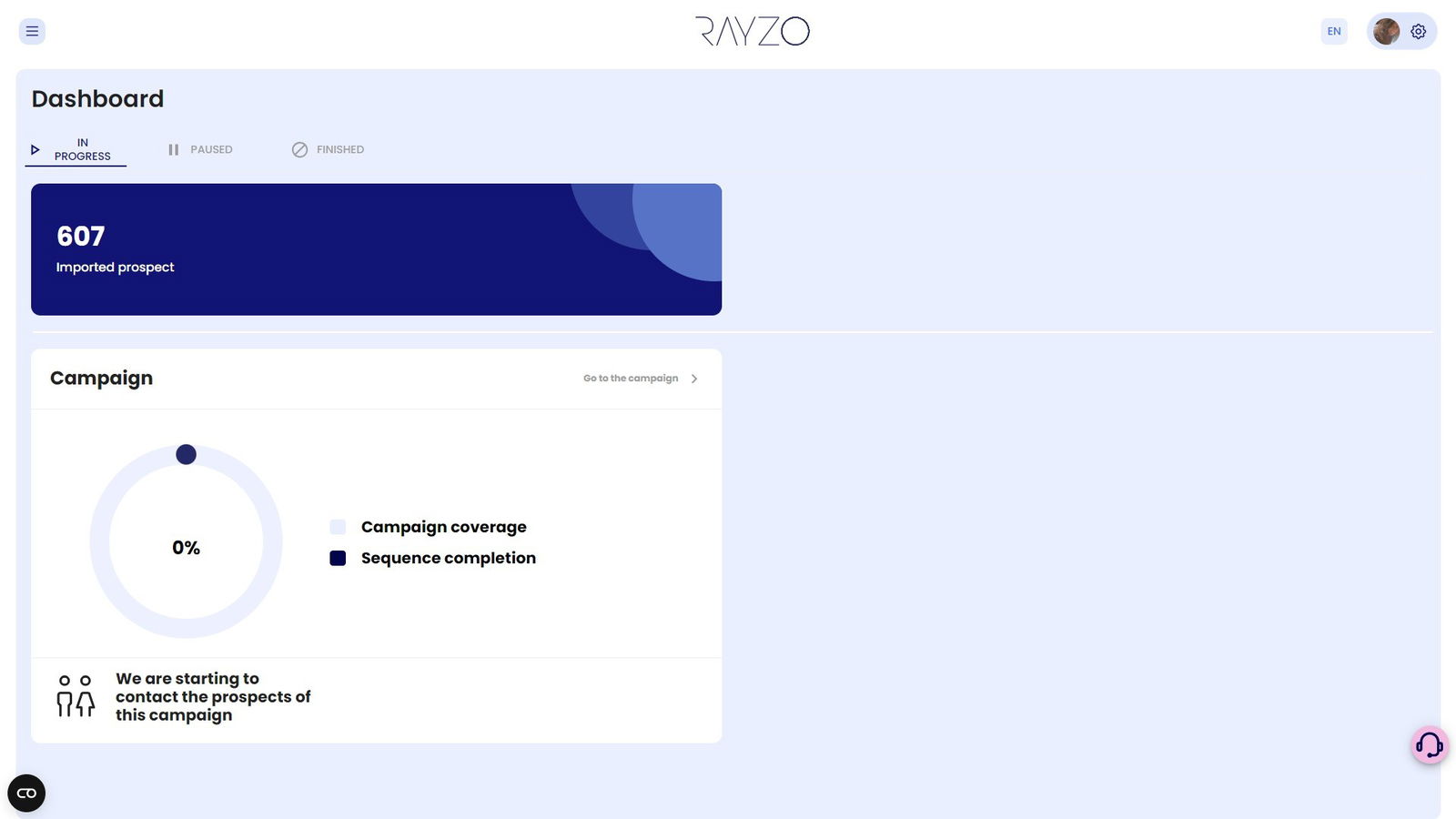 Closely Monitor Your Campaigns' Progress Straight from Your Dashboard
Create custom lead generation campaigns effortlessly using RAYZO. All you need to do is select the actions for specific contacts and watch as your outreach process runs on autopilot.
Create workflows with actions like visit, follow, connect and message while adding delays between automated actions to mimic organic interaction. With personalized messages in your workflows, rest assured that your lead gen strategy will feel genuine and not robotic.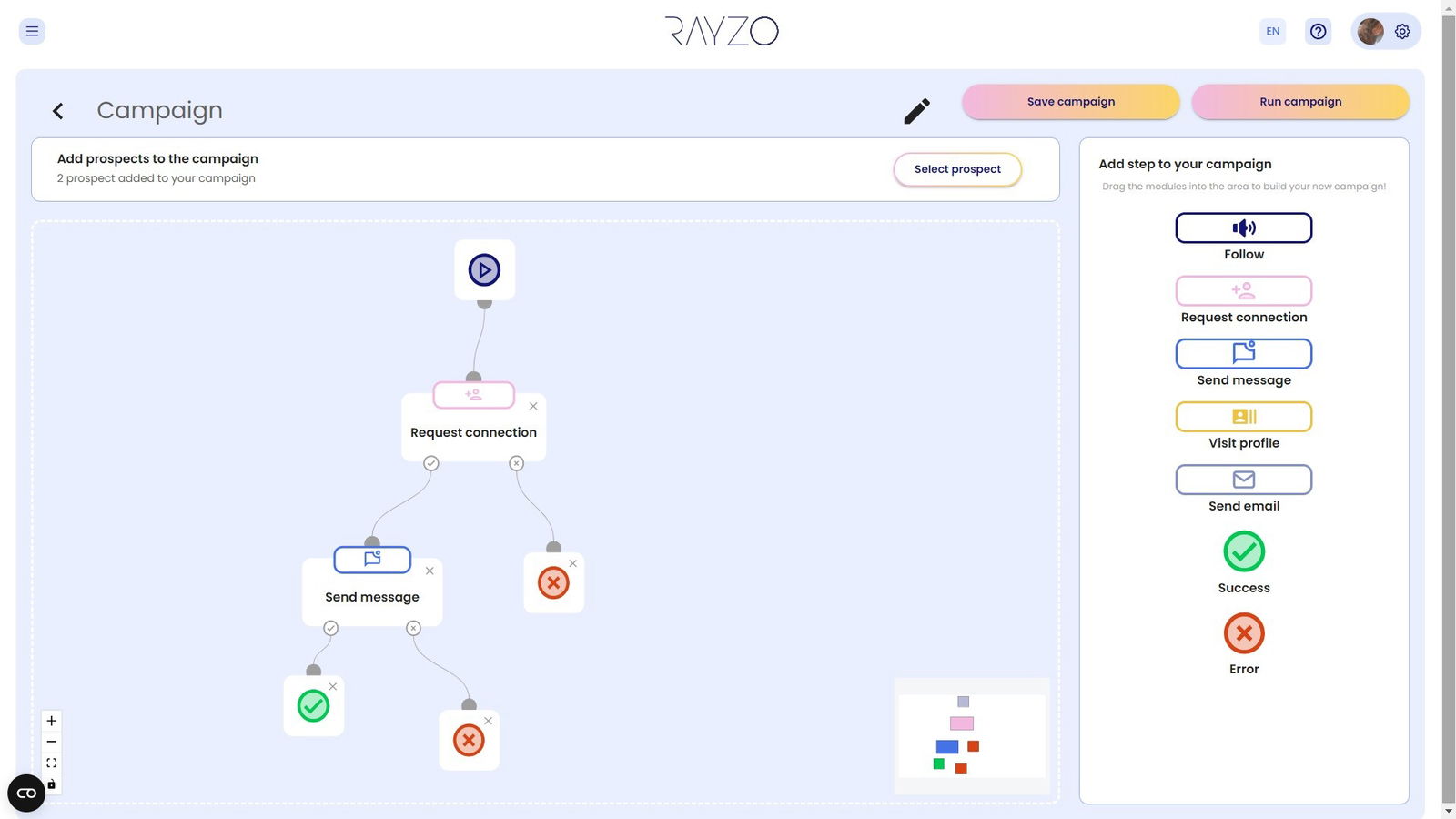 Create Custom Workflows for Campaigns with Rayzon And Automate Your Lead Gen Process Effectively
The comprehensive campaign dashboard provided by RAYZO lets you monitor your LinkedIn lead generation campaign closely by displaying all collected data. It provides detailed insights about actions taken during the campaign such as invitations sent out or visits made.
You also get access to important success metrics like acceptance rates and response rates so you always know how well your campaigns are performing.
Incorporating this tool in business operations can help streamline lead management processes and improve overall productivity. Here are five reasons why:
✅ Streamlined Contact Management: With RAZYO's automation capabilities, businesses can significantly reduce manual efforts required in managing contacts.
✅ Enhanced Productivity: By automating repetitive tasks like importing contacts from LinkedIn profiles or monitoring campaign activities.
✅ Improved Targeting: By allowing businesses to generate prospect lists based on targeted characteristics.
✅ Data-driven Decisions: The comprehensive dashboard provides actionable insights which can guide strategy development.
✅ Personalized Outreach: The ability to add personalized messages in workflows makes the outreach process more human-like.
For those seeking an efficient way to manage leads without going through too much hassle—RAYZO is the answer. Achieve higher conversion rates today by getting lifetime access to RAYZO!