Looking to create an app without the hassle of coding? Look no further than Hypi! Hypi is a powerful app-building platform that lets you create responsive web, mobile, and desktop apps in record time, with no coding required.
Hypi's intuitive visual interface puts you in complete control over the aesthetics and functions of your app. Simply drag and drop widgets to create your app, add text, color, images, call-to-action buttons, and more. Hypi makes app-building easy and fun!
And with Hypi, you can preview your app before publishing to ensure it's pixel-perfect. This means you can create a visually stunning and functional app without spending hours on code.
So if you're looking for a user-friendly and efficient way to build apps, try Hypi today!
Drag and drop your way to a responsive web or mobile app—no coding necessary!
In addition to app-building, Hypi also helps you streamline your processes and automate tasks with its powerful logic builder. With Hypi, you can turn boring, manual tasks into smooth digital processes that work seamlessly on both mobile and desktop devices.
The logic builder enables you to build workflows that automate tasks such as submitting forms, searching for data, and querying databases and APIs. You can even add data to your user interface and trigger queries dynamically when users interact with your app, taking your user experience to a new level.
Hypi's logic builder is designed to make your life easier by streamlining your processes and automating tedious tasks. This means you can focus on the more important aspects of your business while Hypi takes care of the rest.
So why wait? Try Hypi now and experience the power of automation in your app-building and business processes!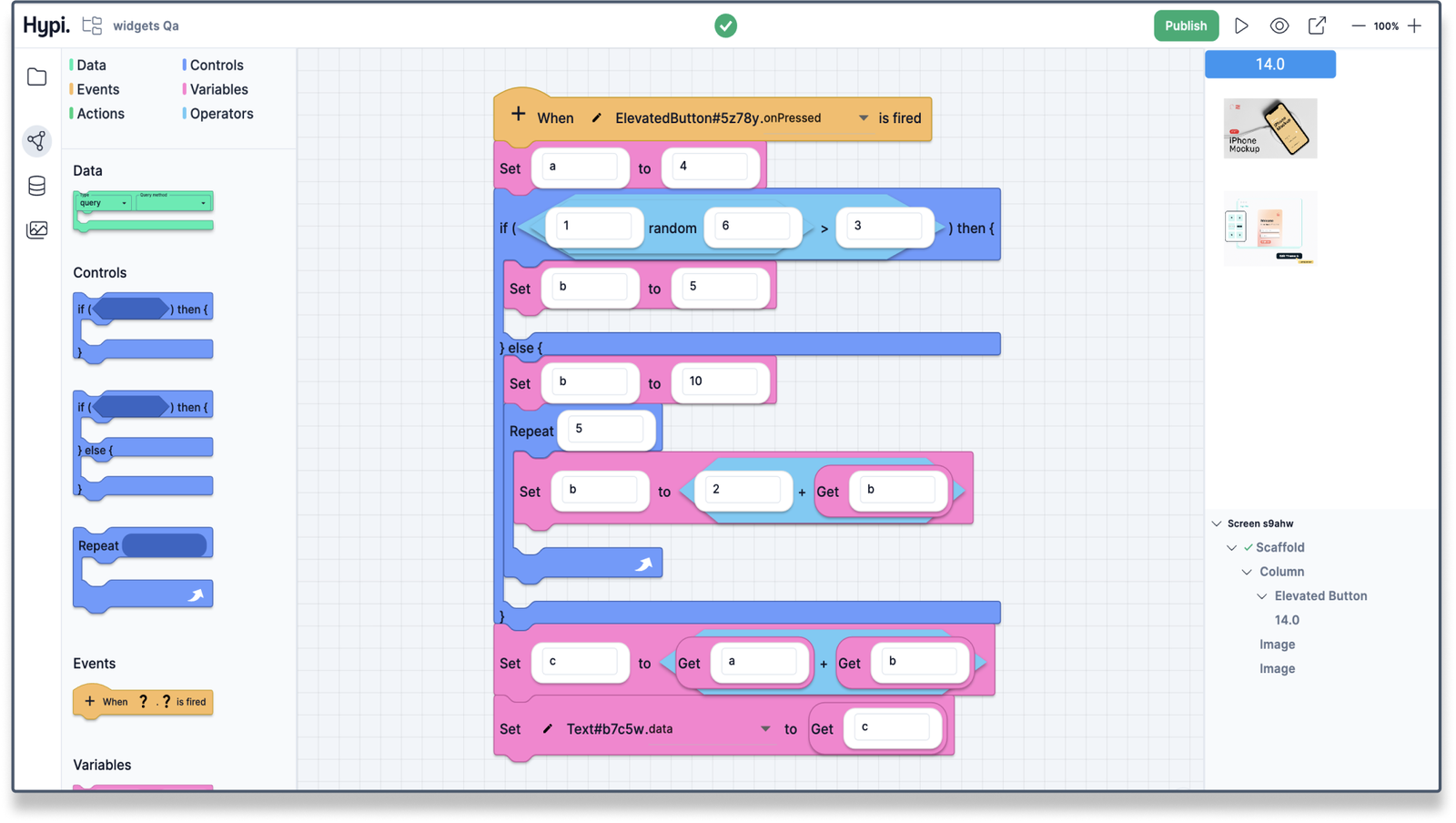 Build workflows that help you streamline and automate important tasks on your to-do list.
With Hypi, you don't need to worry about managing multiple systems or paying for additional services. Hypi offers a seamless integration that lets you connect to your existing database, enabling you to leverage your current infrastructure without any added costs.
And if you don't have a database, no problem! Hypi's secure, built-in database lets you store all your user and company data in one place. This means that you'll have access to all the infrastructure you need to safeguard your app's data on a scalable platform that grows with you.
With Hypi, you can easily manage and secure all your app's data without the hassle of maintaining multiple systems. This allows you to focus on what really matters: creating a great app and growing your business.
So why wait? Try Hypi now and see how it can simplify your app-building process while keeping your data safe and secure.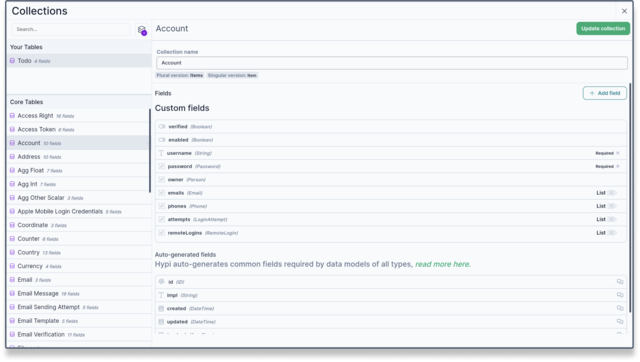 Connect to your existing database or use Hypi's built-in database to store customer and company data.
With Hypi, publishing your app has never been easier. Every time you deploy, Hypi automatically generates a new app version, allowing you to publish your app in seconds. This means that you can get your app to market faster than ever before.
And with Hypi's one-click publishing feature, you can easily publish your app to the Google Play and Apple App stores. This means that your app will be available to a wider audience, giving you more opportunities to reach new customers and grow your business.
Once your app is live, new customers can immediately download and use it on their mobile and desktop devices. This means you can start generating revenue and building your user base right away.
So why wait? Try Hypi now and discover how easy and fast it is to get your app to market!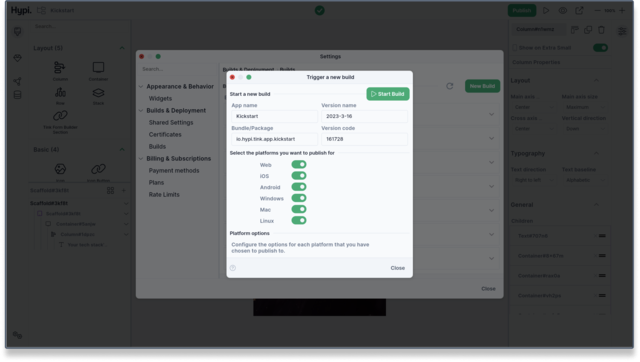 Instantly publish your app on Google Play and Apple App stores with just one click.
Are you ready to launch the app of your dreams? With Hypi, it's easier and faster than ever before! Hypi offers a drag-and-drop app editor and visual logic builder that lets you create and publish a responsive, high-quality app with no coding required.
In fact, you can launch your app in less time than it takes to microwave a Hot Pocket! With Hypi, you can bring your ideas to life quickly and easily, without having to worry about complex coding or technical details.
Hypi's user-friendly interface and intuitive design make it easy to create a fully-functional app that looks and performs great on any device. And with the visual logic builder, you can streamline processes and automate tasks, so your app works seamlessly from the get-go.