In a cutting-edge world, here's the million-dollar question: how can you successfully deploy AI? (That is, beyond asking your favourite virtual assistant how many teaspoons are in a quart.)
AI has the potential to make a tremendous positive impact for businesses, but when it fails, the results can be devastating.
If you want to unlock the power of AI in your company, you'll first need to understand how to approach machine learning in a conscientious way.
Just open up Real World AI: A Practical Guide to Responsible Machine Learning.
TL;DR
Discover a human-first, responsible approach to AI that has a higher success rate than the average AI project
Learn how to launch a successful AI pilot that makes it out of testing and find out how to put together the right organization
Get real-world examples of AI to find out what's possible with machine learning
Best for: AI practitioners looking for ways to deploy AI successfully and thoughtfully
Real World AI: A Practical Guide to Responsible Machine Learning offers a practical guide to deploying AI with a thoughtful human-first approach.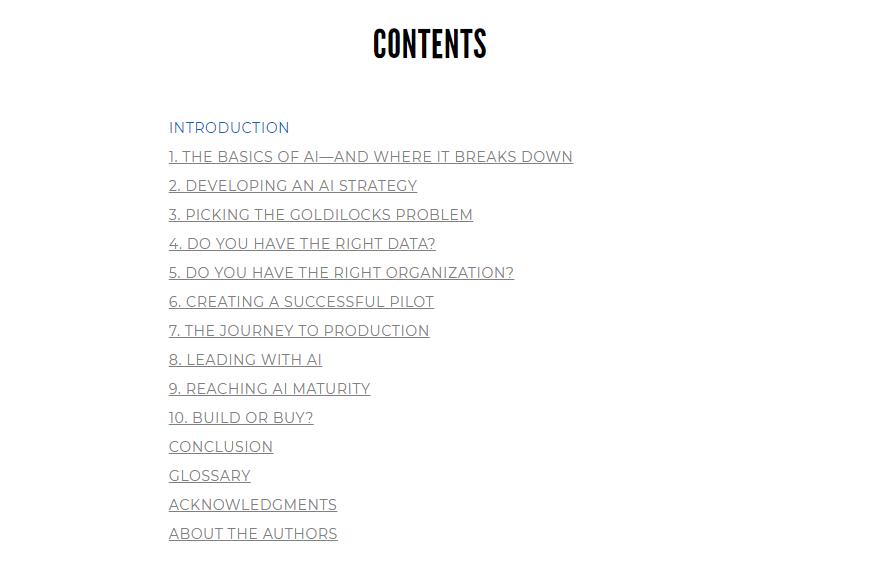 Did you know that most AI models never make it out of testing? Real World AI begins with the lesson that AI project failures aren't random.
From there, the guide dives into how you can deploy AI responsibly by prioritizing people first.
After all, AI may be a brilliant tool filled with possibilities—but it also comes with its own set of dangers.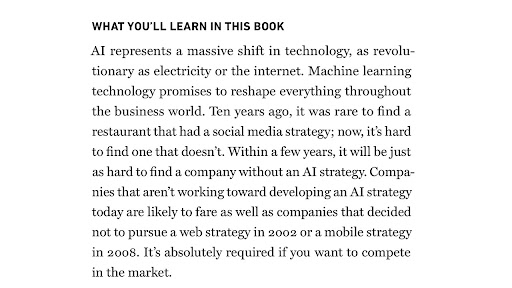 Alyssa Simpson Rochwerger and Wilson Pang take you through this guide by sharing dozens of AI stories and case studies from startups to global enterprises.
These stories will give you a look at personal experiences from people who have worked on global AI developments that impact billions of people every day.
Rochwerger and Pang recount their own real world experiences launching successful and unsuccessful AI models, so you can get insights into what they've learned along the way.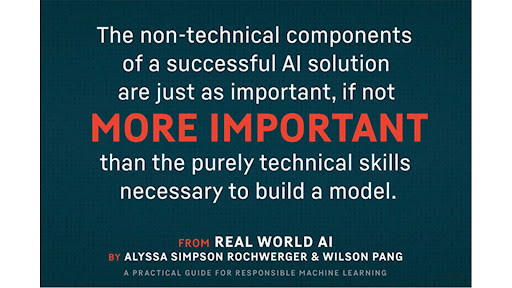 AI for business doesn't have to be overwhelming, and Rochwerger and Pang want to make it accessible for those who want to avoid mistakes in this field.
That's why when you read Real World AI, you'll get a plain language walkthrough of an approach to AI you can feel confident about—for your business and your customers!
Learn the basics of AI and developing an AI strategy, as well as the right data for your AI model, how to put together the right organization, and how to create a successful pilot.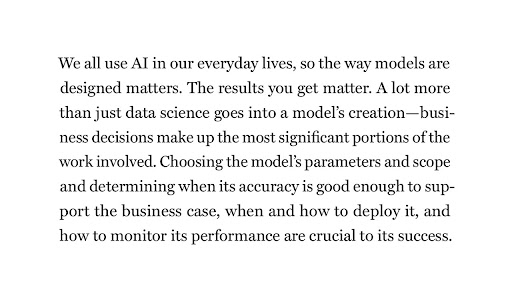 Building a successful AI solution goes beyond just the purely technical skills, which is exactly why you need to consider the non-technical components as well.
If you've been dodging your AI project like it's the gym after New Year's ("Actually, my resolution was to avoid crowds"), it's time to get back in the game.
Learn to leverage AI meaningfully with a valuable guide that breaks it all down for you.
Get free access to Real World AI: A Practical Guide to Responsible Machine Learning today!
Plans and Features
Deal Terms

Digital download of Real World AI: A Practical Guide to Responsible Machine Learning ebook
GDPR compliant
Yours forever if you download and save within 60 days of purchase