Recooty is the applicant tracking system that manages the whole hiring process, so you can find the best candidates for the job.
Now you can generate job descriptions in no time! Just select an SEO-optimized job title and let Recooty auto-populate the rest.
Publish your listing to hundreds of job boards with a single click, including Indeed, LinkedIn, Glassdoor, and Monster.
And you'll be able to share job listings on social media—because you never know where you might find the next hire!
Post your job listings on 100+ job boards with a single click!
Build a professional career page with your own brand colors, logo, and social links using the page builder.
Already have a career page? You can embed the job widget or install the WordPress plugin to keep your job listings updated.
Recooty automatically updates your career page with new listings, which means people won't be applying to jobs that don't exist anymore.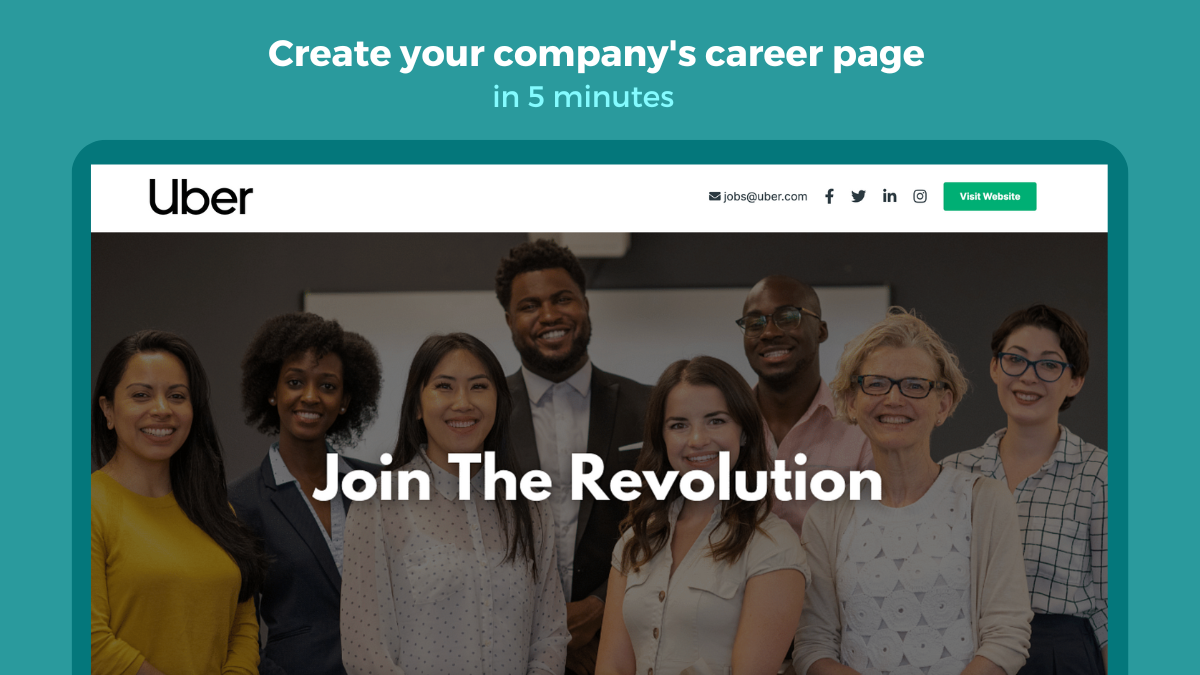 Keep an updated careers page on your website to attract more qualified applicants.
Recooty stores applications from every platform, along with resumes, screening questions, and contact info.
Refer applicants to other jobs or archive them for future reference, so you can always rely on a strong talent pool.
You can even add candidates manually! This is super convenient if you're finding people through cold outreach.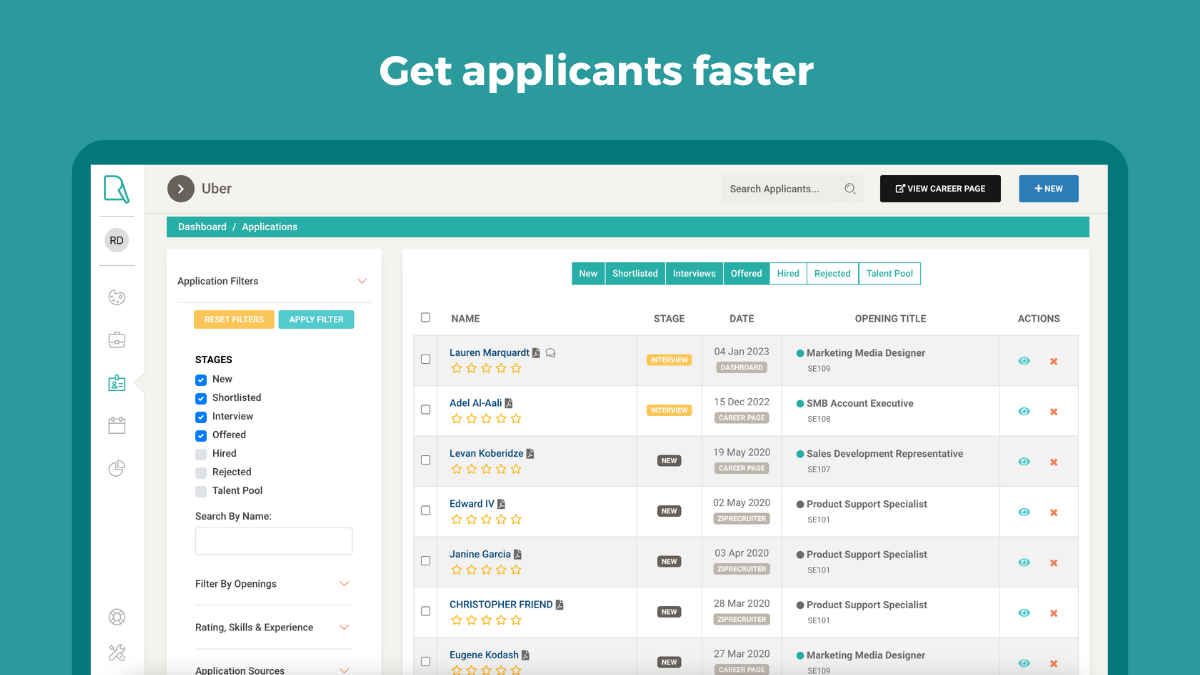 Say goodbye to a dozen tabs and say hello to one clean list of applicants.
Thanks to the platform's multi-user support, you'll be able to evaluate candidates with your hiring team.
Now your team can review, rate, and comment on every applicant, ensuring that everyone's on the same page.
Schedule interviews with top candidates, and track them all with the built-in interview calendar and scheduling features.
Plus, it's easy to keep track of the hiring process when you can shortlist, interview, send an offer, hire talent, or reject candidates in one click.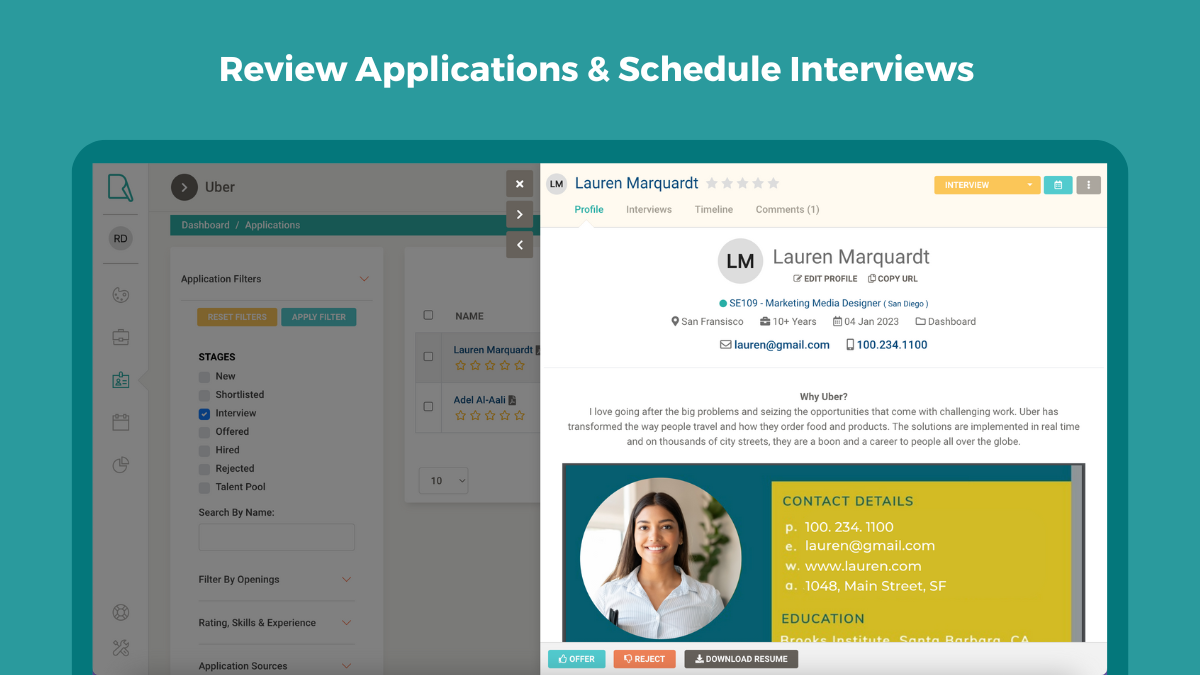 You can review, rate, and comment on every applicant as a team.
Finding the right people for open positions shouldn't mean sifting through hundreds of subpar resumes. ("We'll keep you in mind if we need someone with five years of taxidermy experience.")
Recooty lets you recruit from hundreds of job boards at once using optimized job posts, so you can find the best person for the job.
Recruit the easy way.
Get lifetime access to Recooty today!
Recooty also makes it easy to track job applications, create shortlists, and even send out test assignments.
Plus, you get real time notifications for every application so that nothing gets lost in the mix!
GET DEAL NOW & Start Automating Your Hiring With Recooty Today!
Recooty is an applicant tracking system designed to help employers find the best candidates for their jobs. It allows users to generate customized job descriptions and publish them on hundreds of job boards with a single click. Users can also track their job applications and get real time notifications regarding any new ones that come in. Additionally, they can create a shortlist of suitable talent and even assign tests to those who reach this stage in the process. Now available at Appsumo with an exclusive deal – GET DEAL NOW & start automating your hiring today !