Any.do: A Simple and Efficient Project Management Tool
Enhance your team's productivity with Any.do, a streamlined project management platform designed to simplify task management, project organization, and team collaboration.
With Any.do, you can build countless boards tailored to mirror your workflows. This feature makes it incredibly easy to coordinate a team, oversee a project, or manage a client, all under one roof.
The platform provides kanban boards, calendar views, and table views. It also allows for the creation of custom views to offer a comprehensive overview of your team's work.
You can choose from pre-existing templates, equipped with progress steps and starter tasks for newsletter pipelines, marketing campaigns, or creative plans.
Beyond that, you have the option to construct detailed tasks featuring concise descriptions, due dates, checklists, built-in task chat options, and clear action items—making delegation to the right colleague a breeze!
Stay updated on tasks in various stages—upcoming, in-progress, and completed—with the kanban view.
Any.do also offers seamless integration with WhatsApp, enabling you to send direct messages to create tasks, assign them or receive reminders while on the move.
You can even forward files and attachments via WhatsApp to create new tasks or supplement existing ones.
If you need to plan your day, week, or month? Simply connect your Google calendar or Outlook account and utilize the drag-and-drop feature to maintain organization.
You can also build tasks by importing your boards from platforms such as Trello, monday.com, ClickUp, Todoist, and Asana.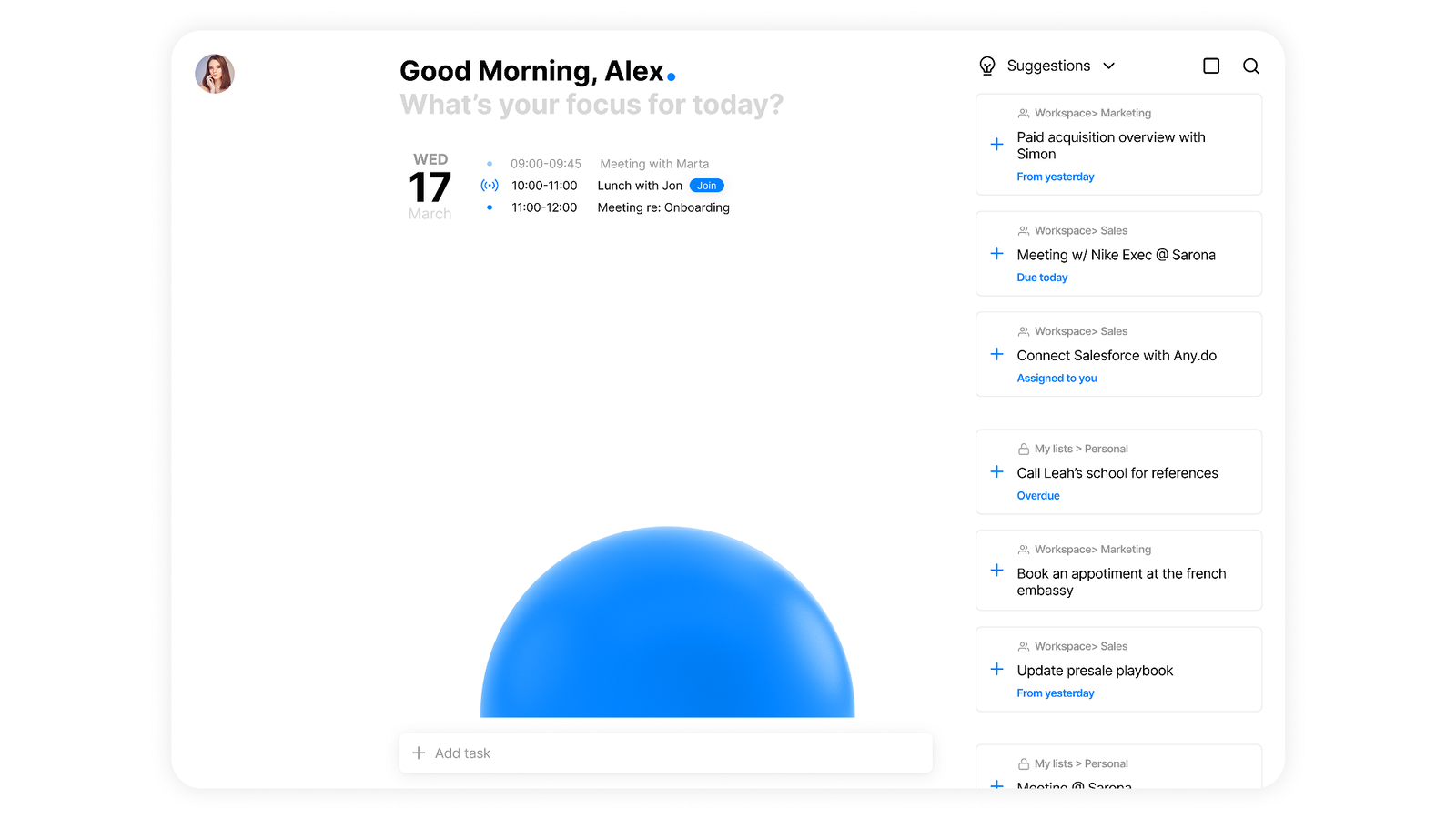 Monitor your schedule and focus on specific dates via the 'My Day' feature.
Create custom views like the People view, which allows you to visualize all tasks organized by assignees, sorted by their due date.
Better yet, you can link this app with Gmail to transmute your emails into actionable tasks.
With Zapier integrations, you can even design custom automations for over 6,000 apps, simplifying your workflow tremendously.
Any.do is a cross-platform tool, compatible with iOS, Android, Apple Watch, Windows, and all web browsers.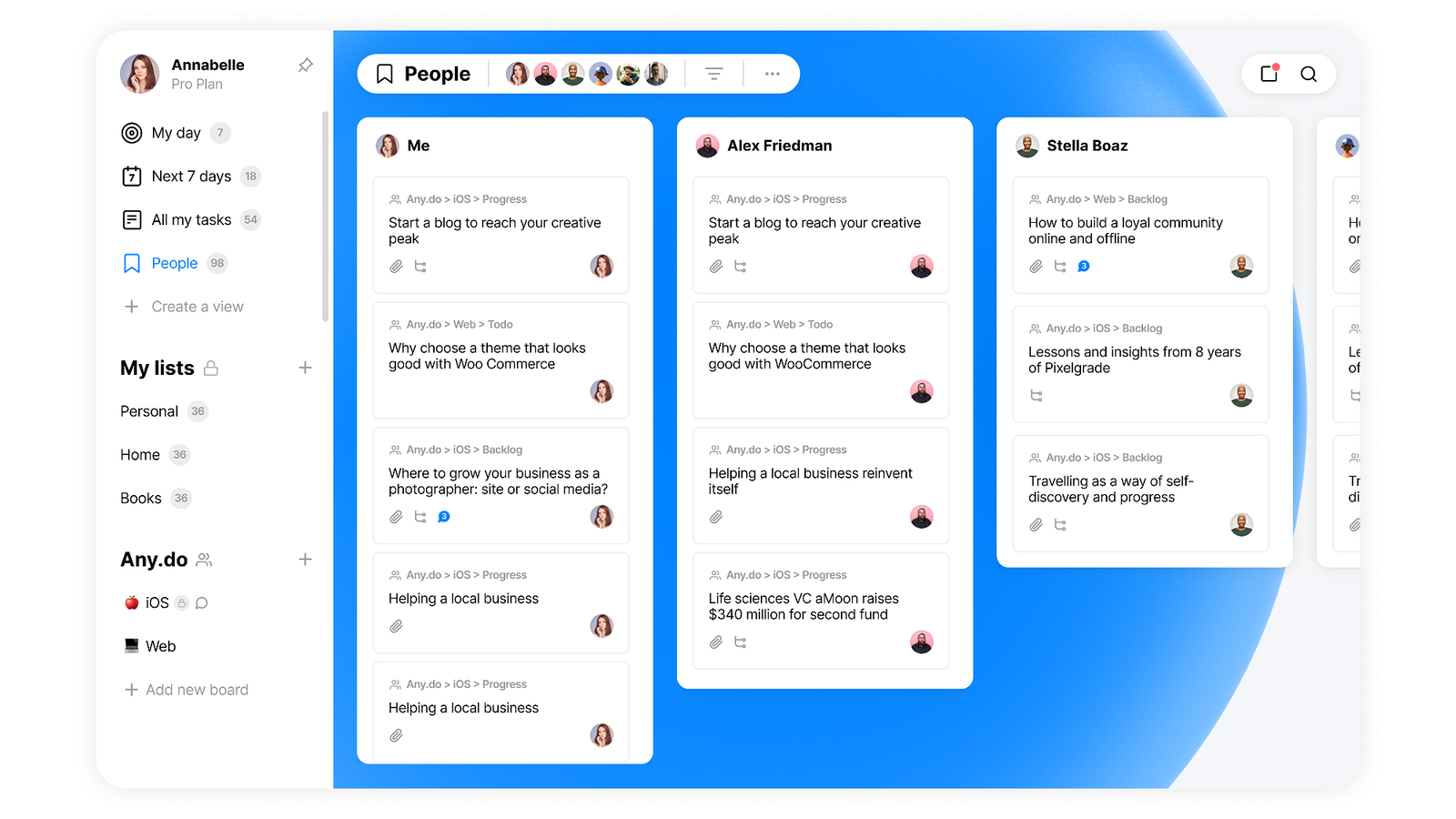 Gain a comprehensive overview of tasks assigned to each team member with the People view.
The best part about Any.do is its ability to organize meetings and daily tasks in 'My Day', allowing you to focus solely on what's important.
Thanks to the tool's integration with Google Calendar and Outlook, you can keep track of vital dates and timelines.
In addition, your team can receive location-based and recurring task reminders , ensuring no one falls behind on their workload.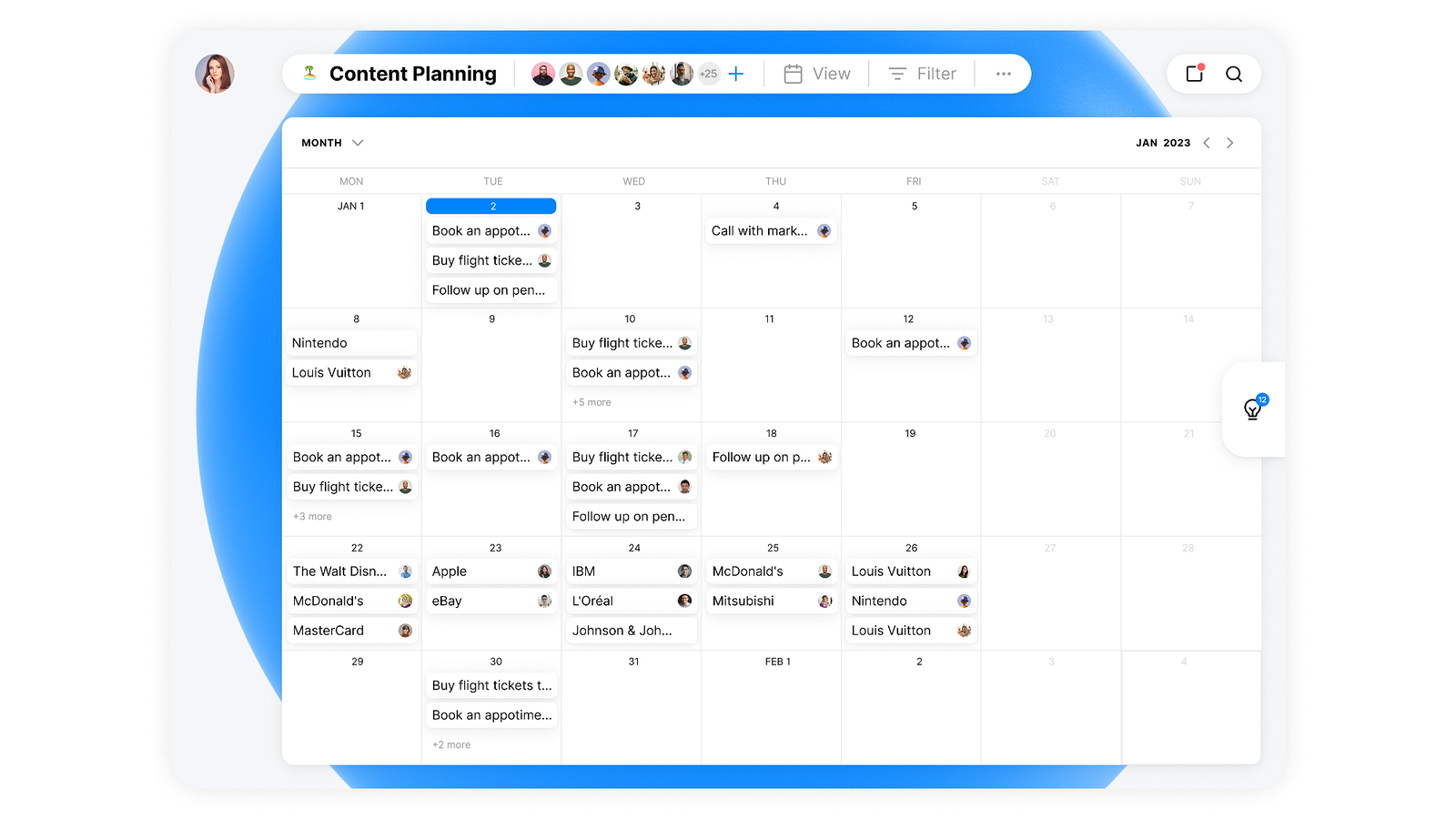 Easily manage your time by viewing tasks and projects in a calendar format.
The growth of your business inevitably leads to a busier schedule. ("So many tasks and *glances at calendar* so little time.")
Fear not, as Any.do equips you with all the tools necessary to manage tasks, breeze through projects, and collaborate with your team to achieve your daily goals.
Simplify your task list.
Secure lifetime access to Any.do today!
Benefits of Implementing Any.do in Your Business
Any.do can be a boon to businesses in several ways:
✅ Streamlined Project Management: Simplify task delegation, project oversight, and team coordination.
✅ Comprehensive Task Monitoring: Get a bird's-eye view of all tasks across various stages—upcoming, in-progress, and completed.
✅ Seamless Integration: Connect with multiple platforms like WhatsApp, Google Calendar, Outlook, Gmail, Trello and more for a unified workflow.
✅ Customizable Boards: Create custom boards according to the workflow that suits your team best.
✅ Cross-Platform Compatibility: Use Any.do across multiple platforms including iOS, Android, Apple Watch, Windows and every web browser.