Looking for a complete social media management solution? Look no further than Creatosaurus! With our versatile toolkit, you can effortlessly curate ideas, design stunning graphics, generate AI-powered content, schedule posts, and much more. Whether you're a social media pro or just starting out, Creatosaurus has everything you need to elevate your online presence and engage with your audience like never before. Try it today and discover the power of seamless social media management!
Unleash your creativity with Creatosaurus! Our platform comes equipped with a whopping 2,000+ ready-made templates and a vast library of over 6,000 original assets, empowering you to design stunning visuals in mere minutes. With seamless integration of over 20 third-party apps and in-app integrations with social media sites, stock asset platforms, and online storage tools, Creatosaurus makes it easy to streamline your workflow and boost your productivity. Plus, our powerful team collaboration features enable you to create multiple workspaces and invite team members with various permission levels, so you can collaborate and bring your ideas to life together. Join the Creatosaurus community today and start creating like a pro!
Create visual designs with thousands of ready-made templates and a library of original assets.
Creatosaurus' AI content writer is a revolutionary tool that can help you unleash your creativity and overcome writer's block in a matter of seconds. With its powerful algorithms and advanced natural language processing capabilities, this AI tool can generate all kinds of copy for you, whether it's a blog post, a product description, or a social media update.
One of the most appealing features of Creatosaurus' AI content writer is its user-friendly interface. All you need to do is provide a name and description of your product, and the AI writer will take care of the rest. This makes filling out writing prompts a breeze, and ensures that you never have to struggle with coming up with the right words again.
The integrated graphics editor is another standout feature of Creatosaurus. Not only can you generate high-quality written content with the AI tool, but you can also view your designs as you write in the same browser tab. This can help you to better visualize your content and ensure that your written copy and graphics work seamlessly together.
If you're struggling to come up with ideas, Creatosaurus has got you covered. Its built-in quotes library provides a wealth of inspiration for your next post or piece of content. With this feature, you can easily browse through a curated selection of quotes and find the perfect one to spark your creativity.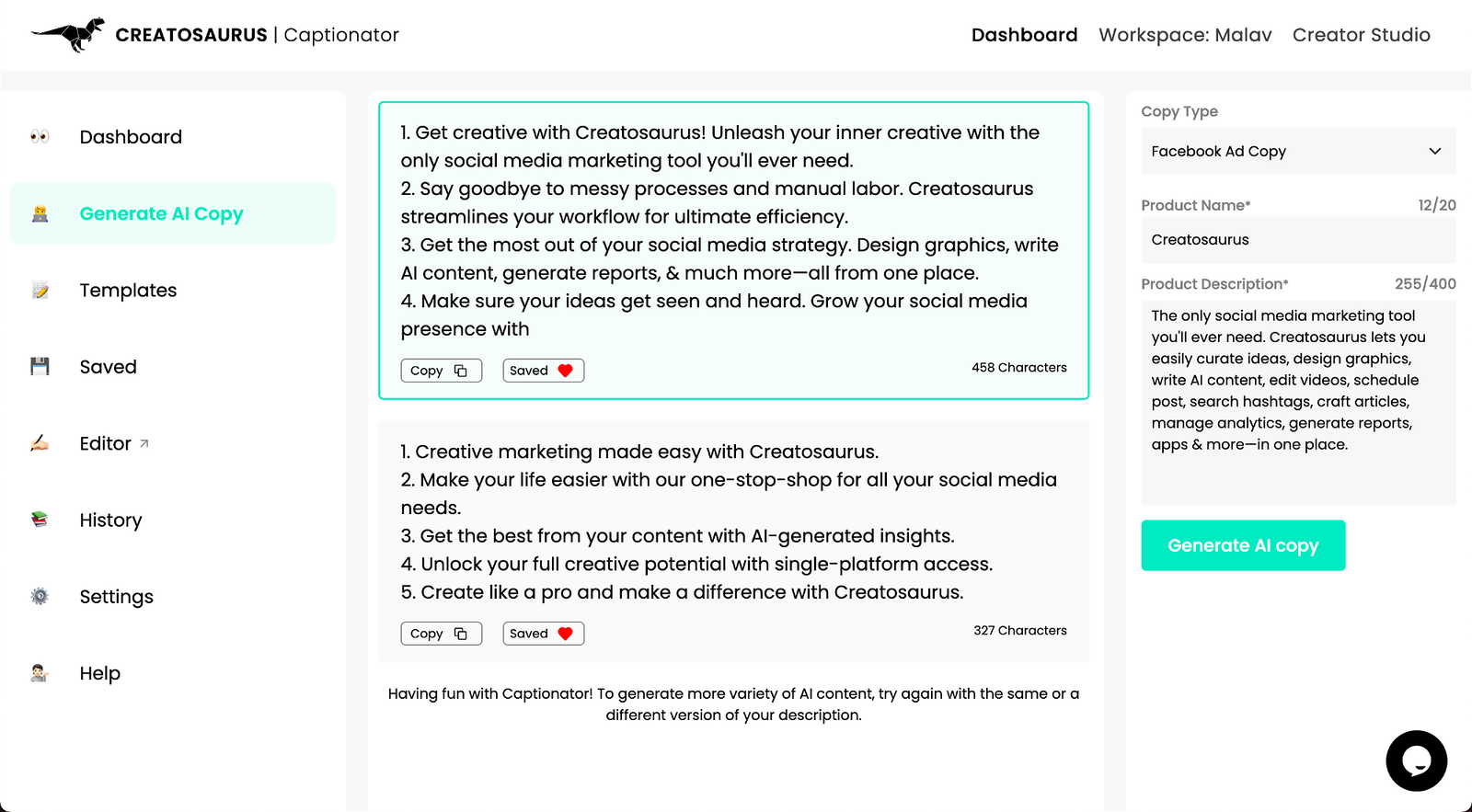 The AI makes it easy to quickly generate compelling copy for your visual content.
With Creatosaurus, you can view trending hashtags and topics in different regions to find out what's hot across the globe.
Create groups of up to 30 hashtags for Instagram that you can easily add to future campaigns, and even find related hashtags to maximize your posts' reach.
Plus, you can analyze competition, average likes, and average comment stats, so you're only using hashtags that the algorithms love.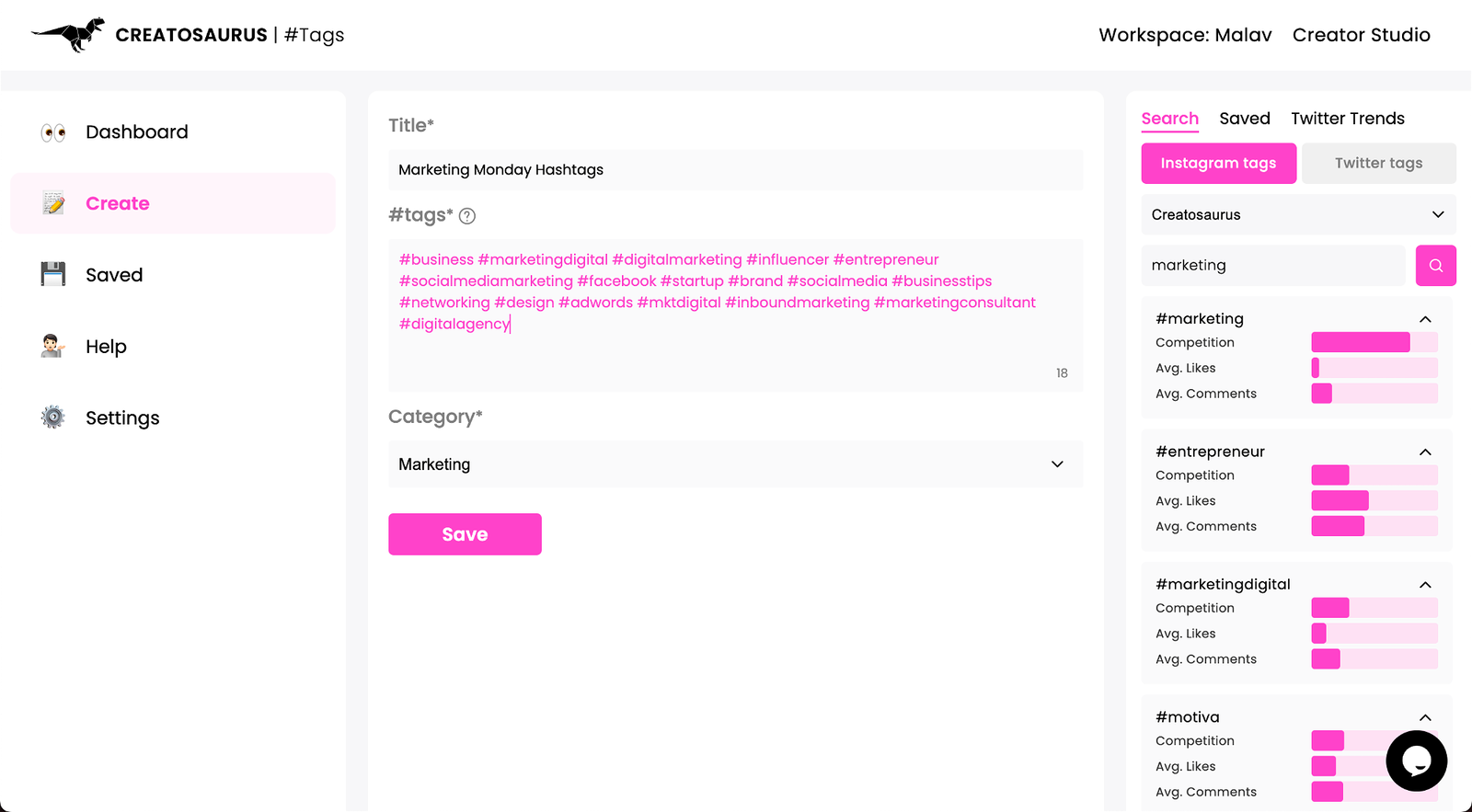 Analyze Instagram hashtags to tag your posts with keywords that get the most exposure.
Best of all, Creatosaurus lets you schedule posts for different social media accounts from a single dashboard.
The platform supports video content, including Instagram reels, YouTube videos, and video posts on Facebook pages.
And unlike content creation platforms, this tool is scalable and simple to use. No need to be an expert designer or writer!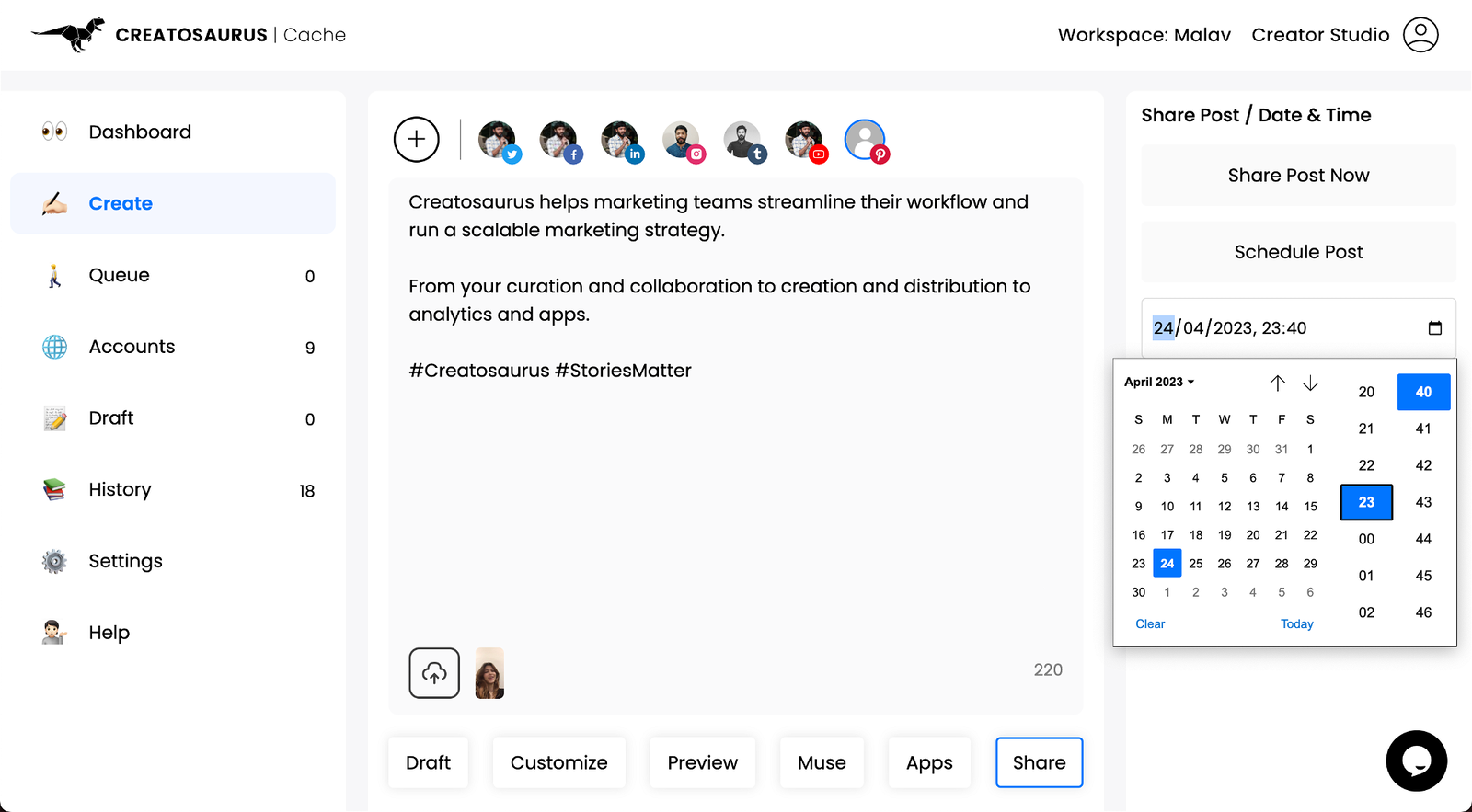 Schedule posts across different platforms from one user-friendly dashboard.
Step right up, folks! Unlike those flashy infomercial gimmicks that leave you feeling disappointed, we've got the real deal here. The ultimate social media marketing tool, Creatosaurus, is a force to be reckoned with.
With Creatosaurus, you'll have access to all the bells and whistles you need to create stunning graphics, craft captivating copy, and optimize your hashtags like a pro. This tool is so versatile, it'll even make your social media presence sparkle like a diamond on Twitter!
From seamless scheduling across multiple platforms to powerful analytics that help you track your progress, Creatosaurus is the only social media marketing tool you'll ever need. Don't settle for less. Get your hands on Creatosaurus today and watch your social media game soar to new heights!