Acquiring your first business is a thrilling accomplishment.
You took a calculated risk on a business where you saw a ton of potential. But what happens next? ("Does money not just flow into my bank account while I enjoy fondue?")
After you acquire a business, you want to learn proven strategies to multiply your return on investment without spending more money.
Time to open up The Acquisition Playbook: 10 Proven Post-Acquisition Strategies to Increase Revenue 10% or More.
TL;DR
Discover 10 proven strategies for increasing revenue after a business acquisition
Learn more about boosting revenue by raising prices and monetizing free services
Find out how to become tax efficient and take advantage of tax credits
Best for: New business owners who have acquired a business and want to take advantage of every opportunity to increase profit
The Acquisition Playbook is an ebook that provides 10 proven post-acquisition strategies to help buyers improve their revenue.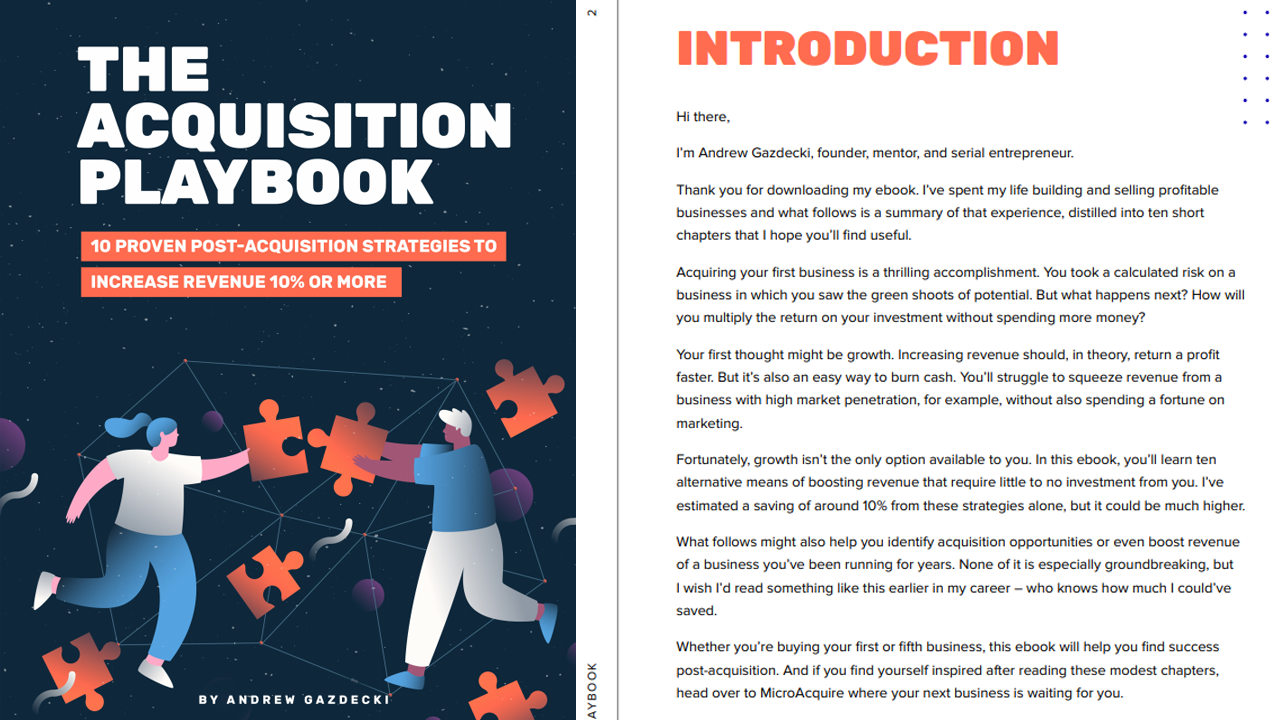 Whether you're buying your first or fifth business, The Acquisition Playbook will help you find success after acquisition. (It's the sequel to believing in life after love.)
There's more than one way to boost revenue after you acquire a business. With this ebook, you get 10 proven strategies for improving revenue for your new business.
You can choose to focus on one or two or try them all—either way, you'll be sure to find a wealth of insight that will help you take the guesswork out of what to do post-acquisition.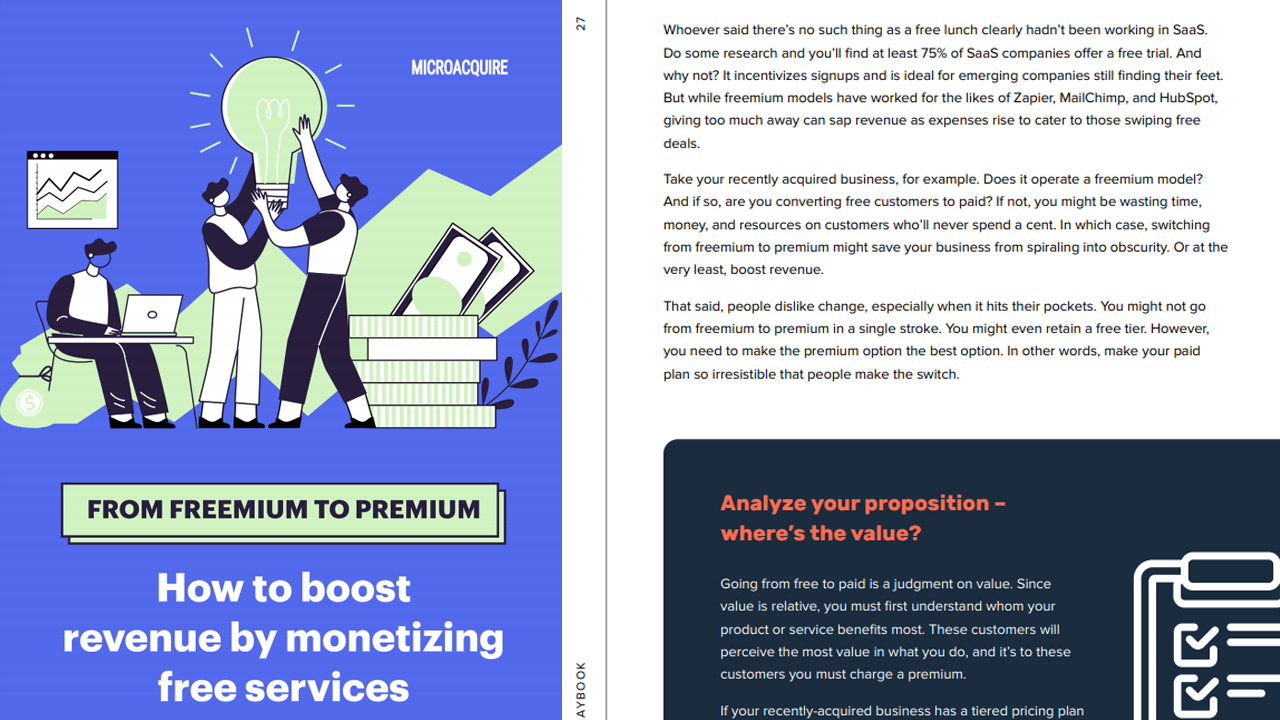 Get ready to learn how to raise prices and optimize conversion rates to boost the revenue of your newly acquired business.
You'll get advice on how to negotiate a better affiliate deal, so you can make sure you're paying for the right outcomes and not losing revenue through your affiliates.
The Acquisition Playbook also provides insights on how you can boost revenue by becoming tax efficient and taking advantage of available tax credits.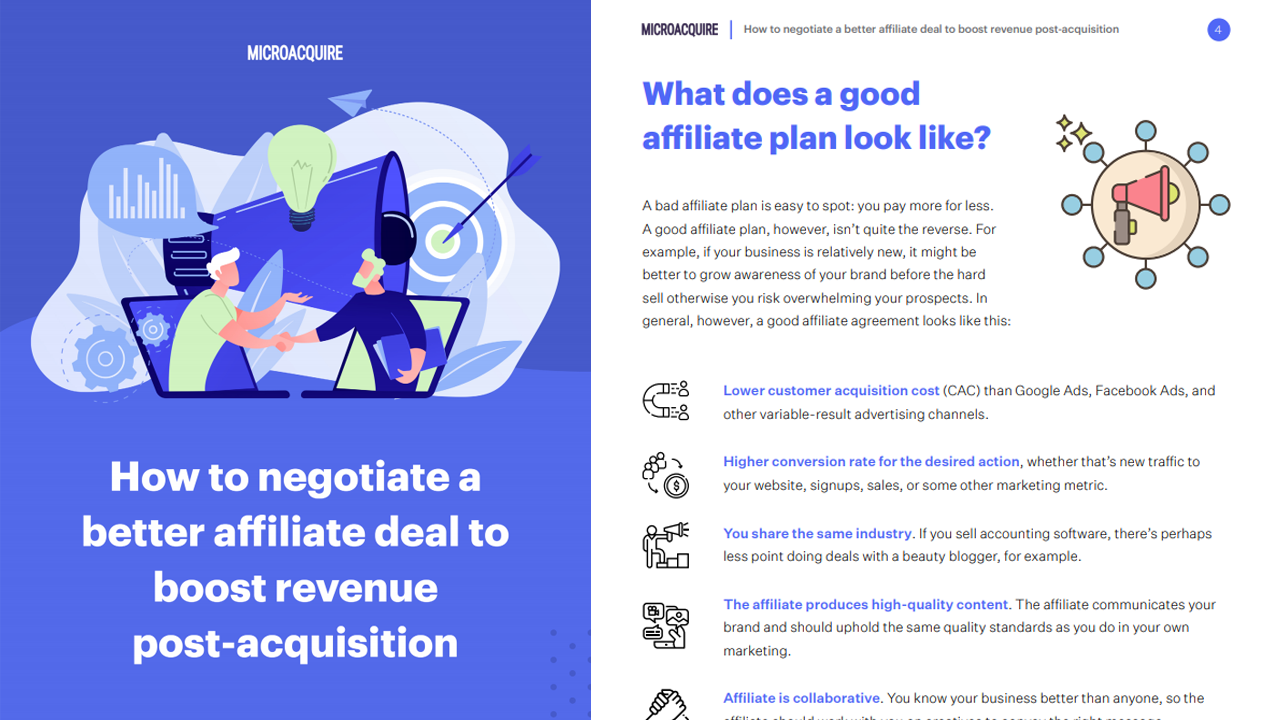 This ebook will teach you how to take a freemium SaaS offer to a premium offer by monetizing free services, so you can take advantage of the interest in these offers.
You'll also discover new ways to improve the way you work to boost revenue, like remote working and automating workflows.
The Playbook can also help you identify acquisition opportunities or even boost revenue for a business you've been running for years. ("Now's the time for Equestrian Tap Shoes Inc. to shine.")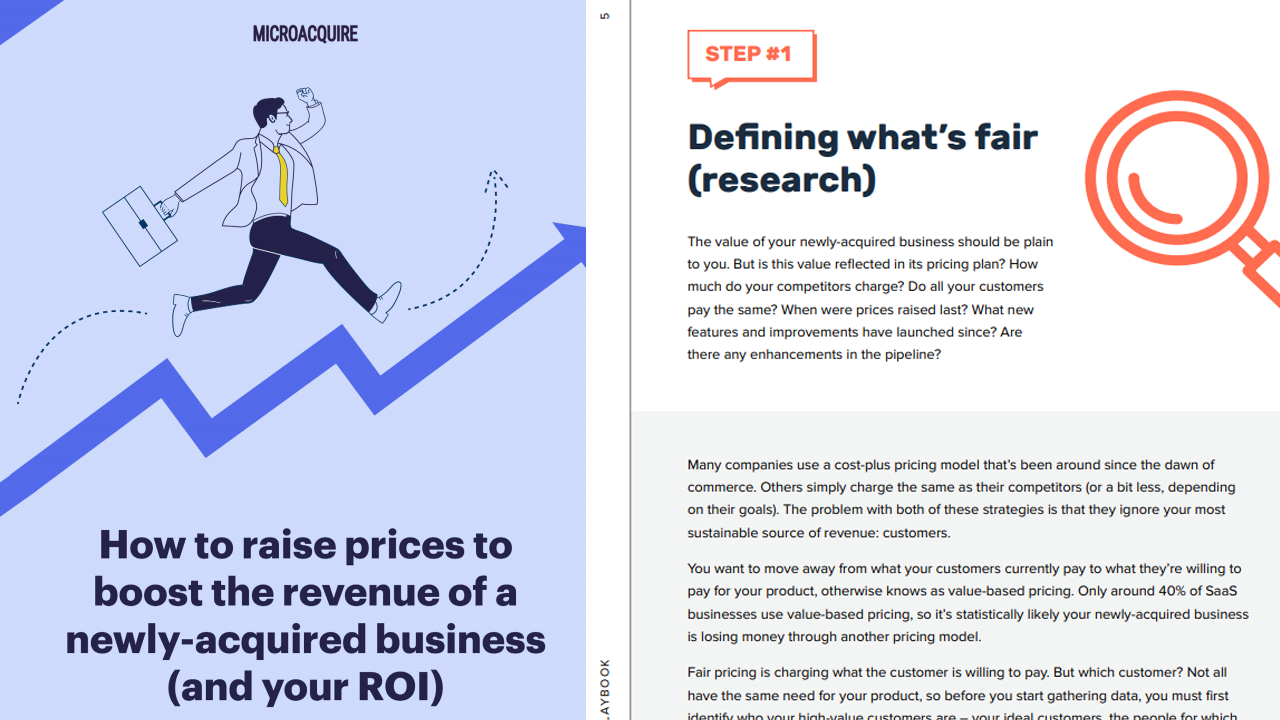 Buying a business can be exciting and profitable—if you know all the right ways to boost revenue post-acquisition. (Giving out branded Crocs was actually losing you money.)
From raising prices to automating workflows, The Acquisition Playbook gives you proven strategies you can start using today to make the most of your newly acquired business.
Make smarter plays with your business.
Get free access to The Acquisition Playbook today!
Plans and Features
Deal Terms

Digital download of The Acquisition Playbook: 10 Proven Post-Acquisition Strategies to Increase Revenue 10% or More
GDPR compliant
Yours forever if you download and save within 60 days of purchase