WordKraft.ai contains more than 60 AI tools and over 70 writing templates that help produce original SEO content quickly
WordKraft.ai is ideal for creating content for social media, email, and blog posts in different formats and styles.
It is a powerful toolkit that helps develop efficient content strategy while remaining within budget.
Write blogs and sales letters using over 78 writing templates in the blink of an eye.
With WordKraft.ai, generating long-form content that ranks high and targets your ideal audience is a breeze.
The AI writing tool creates original, SEO-friendly articles of up to 2,000 words on any topic in just two simple steps.
You can edit, expand, and re-write any section and once you're happy with the content, simply copy and paste the text or pre-loaded HTML.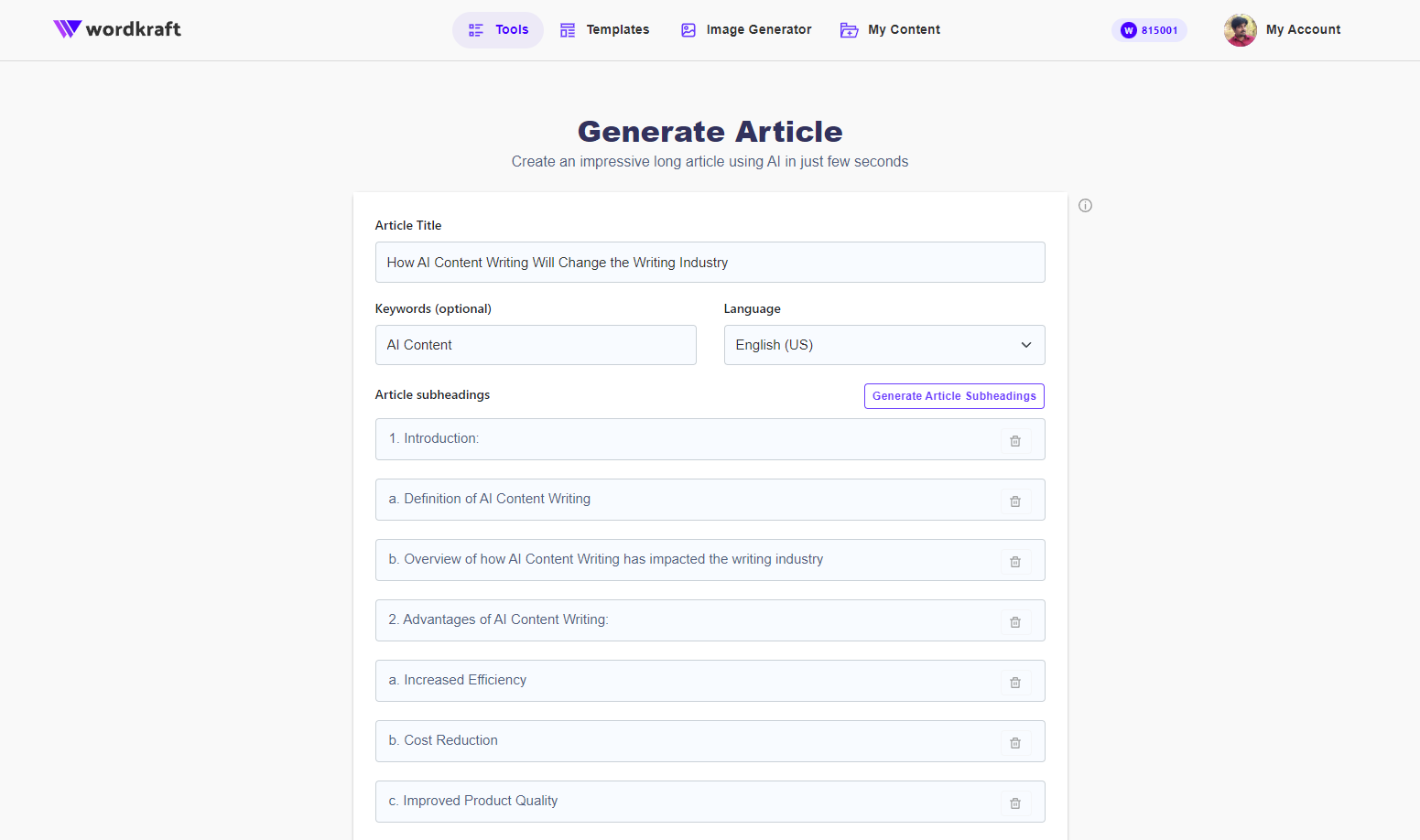 Instantly get original articles with up to 2,000 words on any topic.
WordKraft.ai's paraphrasing feature ensures the content is plagiarism-free and without redundant wording.
Thanks to the built-in grammar checker, you can guarantee that the content is written correctly and mistake-free.
You can customize the editing features to maintain your brand voice throughout the content.
The article writer, social media caption writer, and email writer can all be accessed with this software's essential features!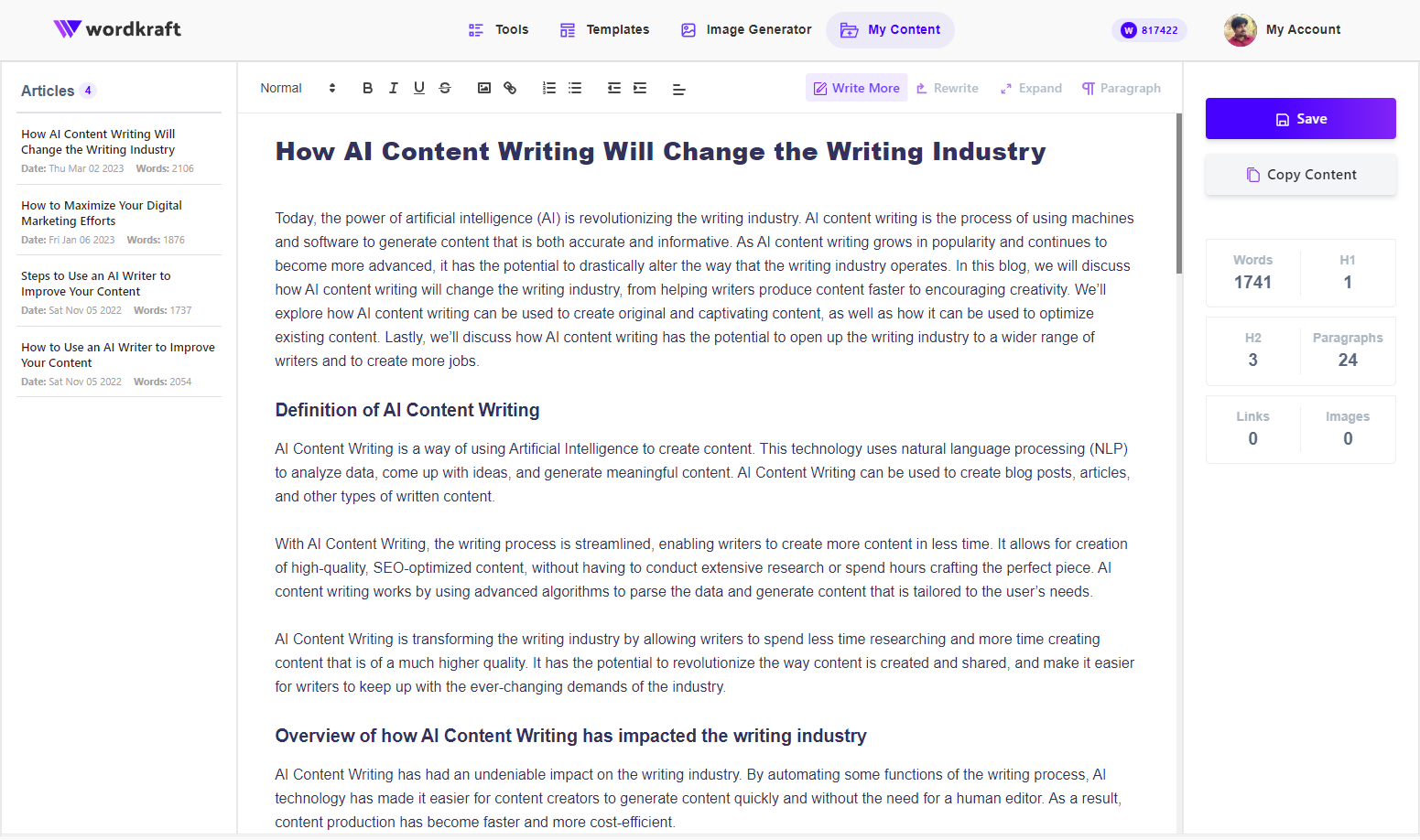 Check your content for grammatical errors and plagiarism using smart AI tools.
With WordKraft.ai, it's easy to generate unique images with AI rather than hiring a graphic designer or subscribing to Photoshop.
Enter the required image details, such as the subject, style, and size, and let WordKraft.ai create it for you.
These images are royalty-free and ready to use wherever you need them!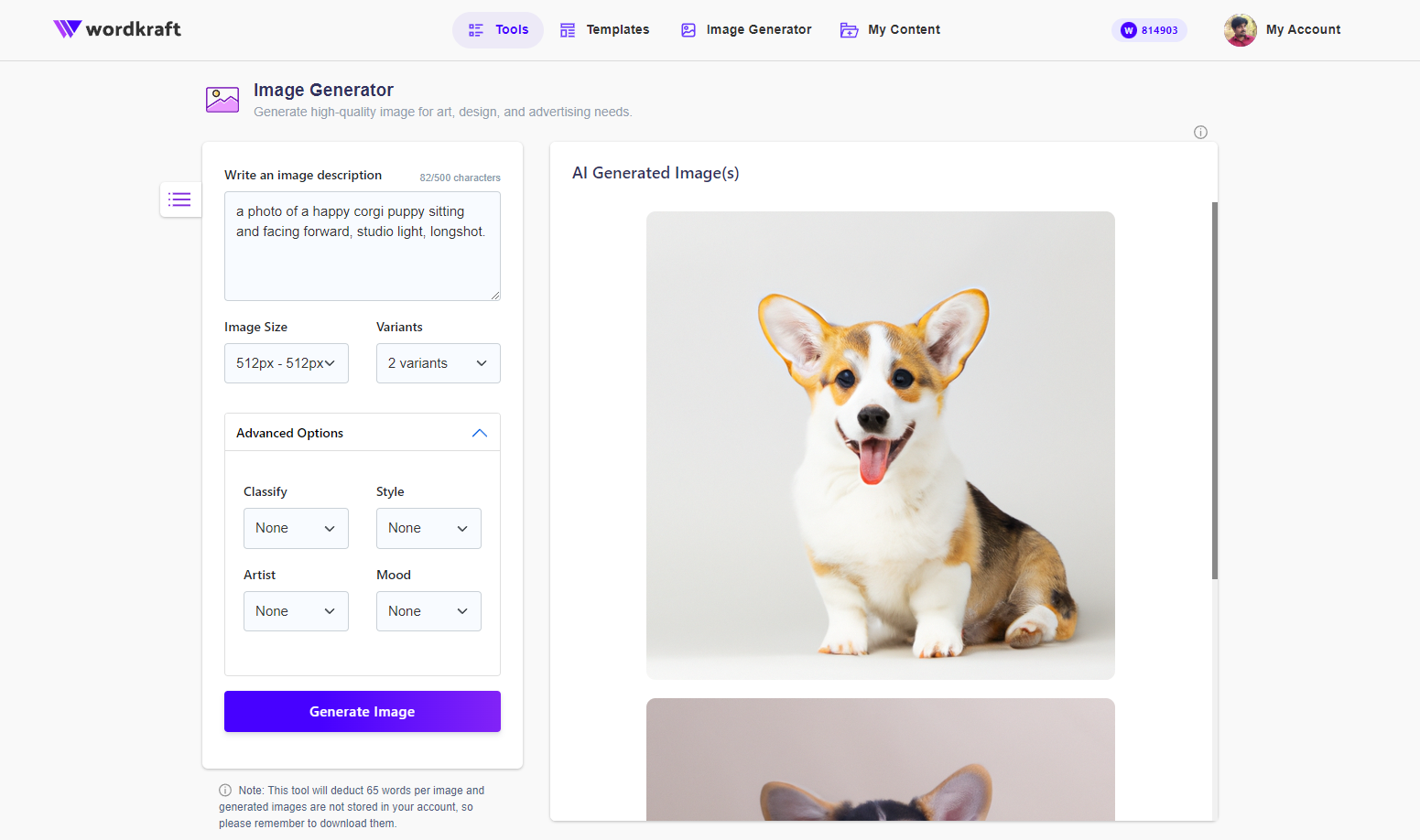 Generate unique, royalty-free images in a matter of seconds with the power of AI.
With the help of AI, WordKraft.ai, creating SEO-friendly content is as smooth as your favorite pick-up line. ("Did it hurt? When you crashed on the first page of Google?")
WordKraft.ai provides access to many powerful AI tools and content templates to quickly generate professional content.
Take advantage of this offer now and start generating winning content.
Get lifetime access to WordKraft.ai today!
How WordKraft.ai can elevate your business
Improve content quality with AI-powered tools and templates
Create SEO-friendly content efficiently and within budget
Get access to royalty-free images without hiring a graphic designer or subscribing to Photoshop
Customize your brand voice throughout the content to maintain consistency across all platforms, content types, and styles
Paraphrase content and avoid using duplicate words or phrases, streamlining the editing process
PROS
Cheap alternative to hiring a professional content creator or graphic designer
Powerful AI tools and templates help create SEO-friendly content quickly and easily
Paraphrasing feature helps prevent plagiarism and redundant wording
Get access to over 60 AI tools and 70 pre-built templates
Royalty-free original images created in seconds