WP-Stack: A Revolutionary Tool for Managing and Optimizing Multiple WordPress Sites
Effortless Content Publishing
With WP-Stack, you can easily transfer content from Google Docs or Word documents to your WordPress sites, eliminating the need for tedious copy-pasting or manual formatting. This tool not only supports bulk publishing but also allows you to pre-set your featured image, categories, tags, and SEO information before publication.
Besides, it gives you the flexibility to schedule posts for future publishing on your sites and social media platforms through a simple drag-and-drop function.
Publish posts to your WordPress sites straight from Google Docs or Microsoft Word.
Meticulous Tracking and Notifications
The WP-Stack tool helps you maintain a comprehensive record of all website activities by tracking actions in real time. It's an invaluable feature for troubleshooting potential issues or identifying factors behind major site errors. You can also set up notifications for server issues to promptly detect any suspicious activity.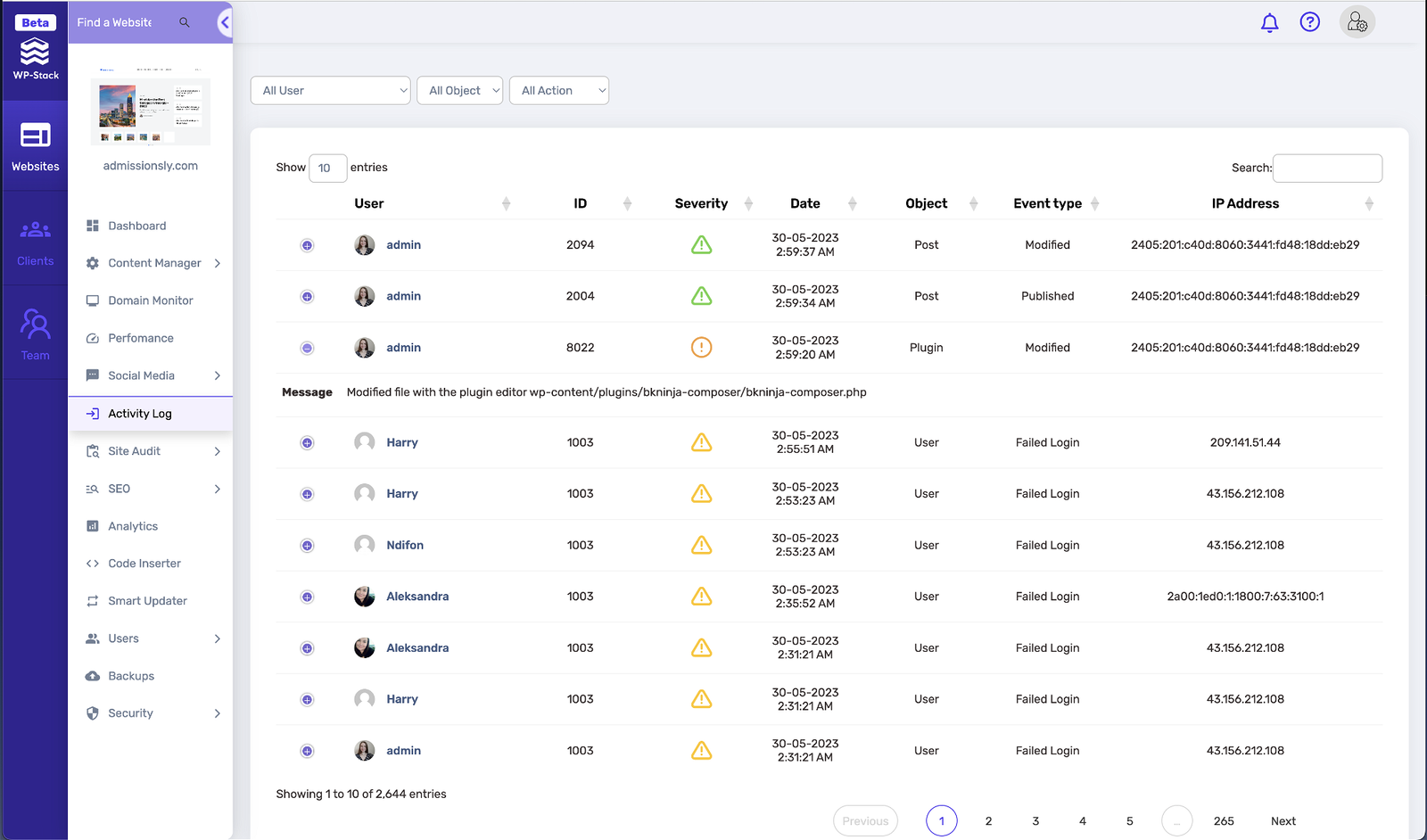 All user activity is tracked in real time for security and diagnostic purposes.
Sophisticated Auditing Capabilities
WP-Stack comes equipped with a built-in auditing tool that enables you to conduct thorough technical audits of all your websites instantly,. Thus, helping you discover technical glitches across web pages like broken links, missing images, or duplicate content. Once identified, these issues can be addressed effectively to enhance your site's technical SEO performance.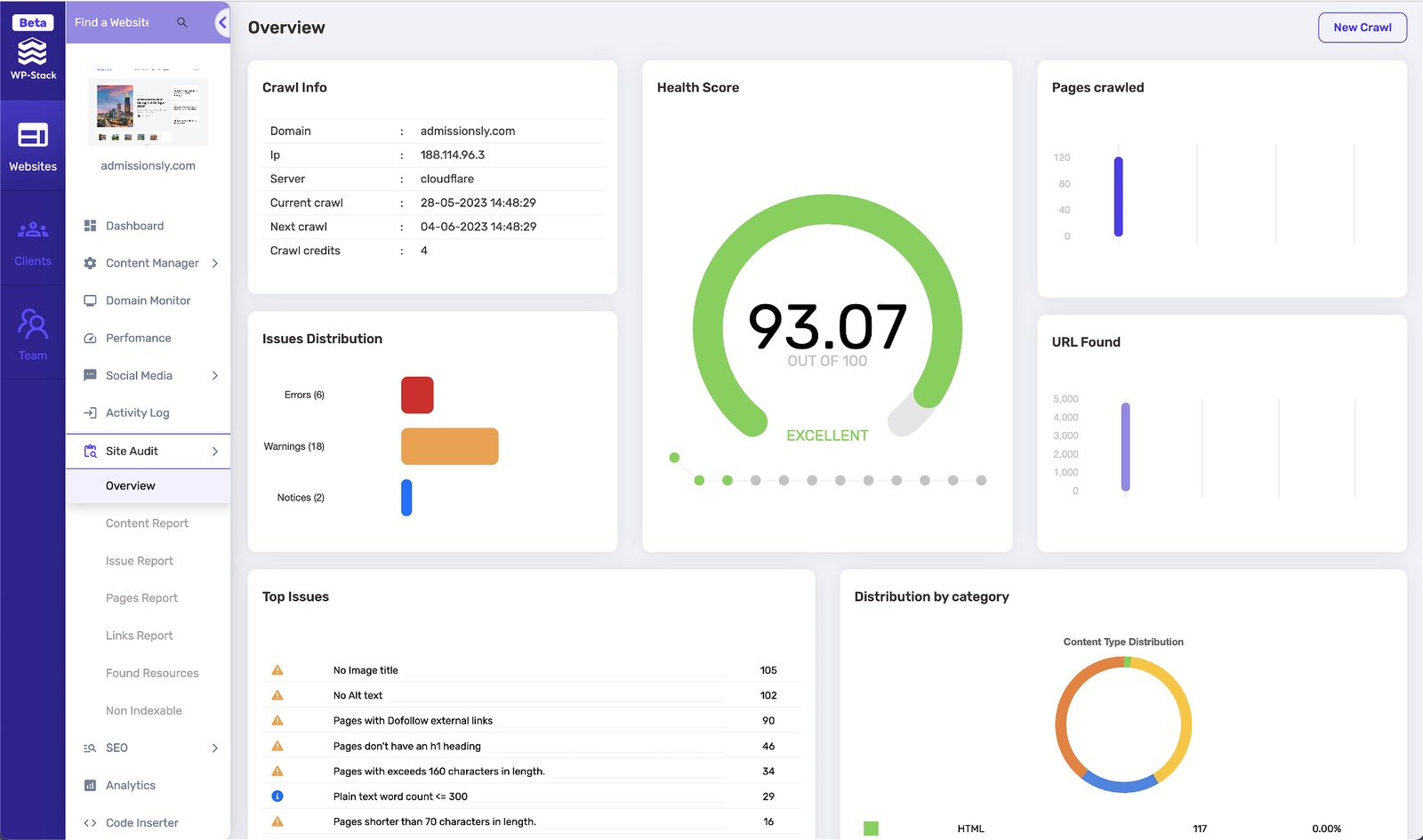 Easily identify and rectify pressing technical or content issues on your websites.
In-depth Performance Monitoring
The perks of WP-Stack include its ability to provide detailed insights into mobile and desktop performance metrics across websites,, including Core Web Vitals and Lighthouse scores. Access PageSpeed Insights reports with just one click to understand Google's optimization suggestions better. Connect Google Search Console with WP-stack for a consolidated view of all search insights. Additionally, it monitors SSL and domain information while sending timely alerts ensuring no missed renewal deadlines.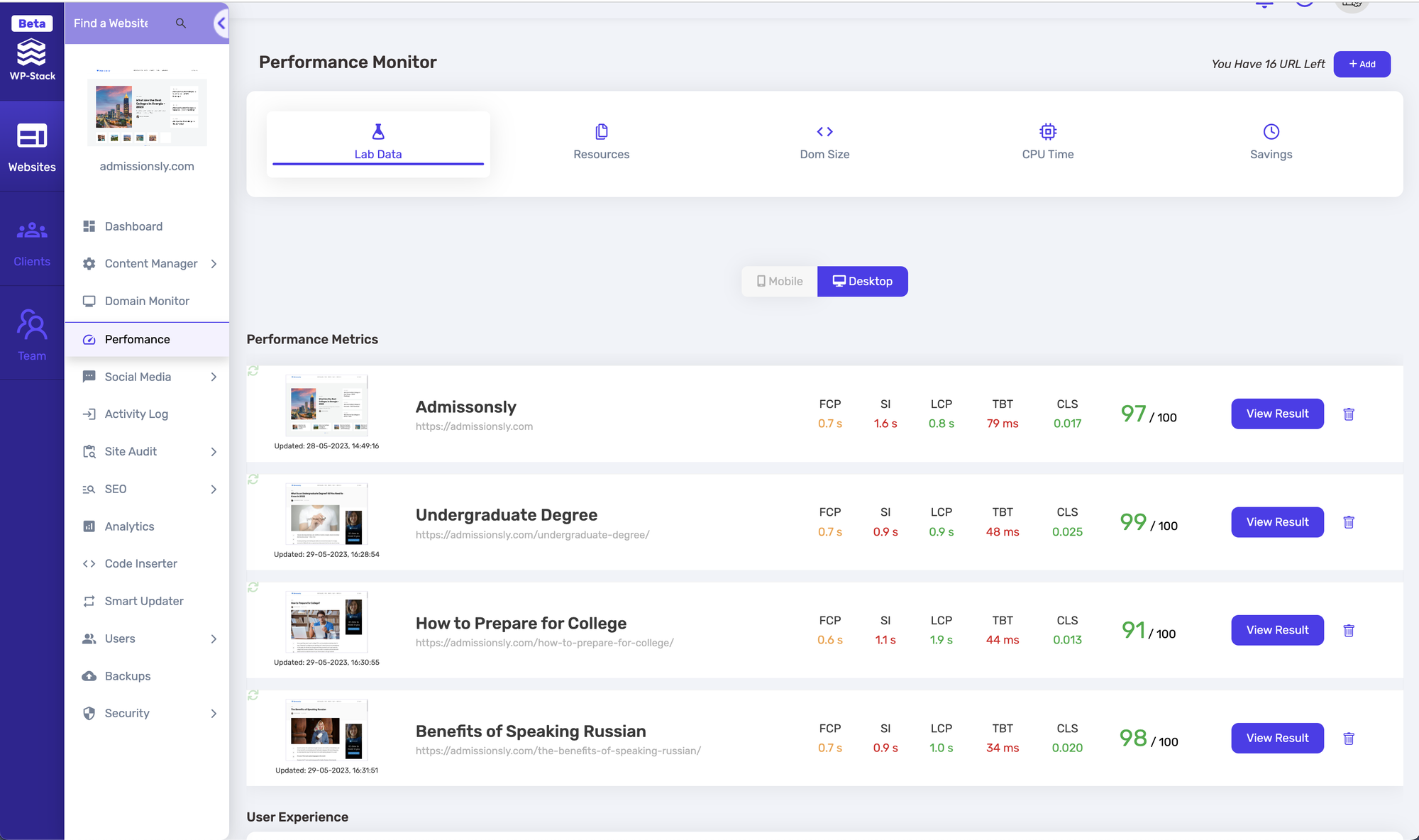 Easily monitor the performance metrics of all your websites at one place.
Simplify Your Website Management Process
Relying on multiple random plugins for running WordPress might seem counterproductive hence why WP-stack brings everything needed to manage secure and optimize all WordPress sites within one dashboard. It's time you take control of your websites!
Purchase lifetime access to WP-stack today!
These are 5 PROS about this deal:
✔️ Simplifies managing multiple WordPress sites
✔️ Automates tasks saving valuable time
✔️ Enhances website performance by identifying areas for improvement
✔️ Provides real-time tracking of actions on the website
✔️ Allows effortless bulk publishing directly from Google Docs or Word Documents
You can implement this software into your business by incorporating it as part of your daily operations such as scheduling posts, conducting routine website audits, monitoring overall website performance etc.
This will lead to increased efficiency in managing multiple WordPress sites simultaneously while improving their overall SEO performance.